RecPro Charles 67" Double RV Wall Hugger Recliner Sofa w/ Console
SKU:

MOD-67

UPC:

606345293208

Shipping:

Same Day Shipping if ordered by 2pm est

FREE SHIPPING

FREE RETURNS

100% GUARANTEE
Description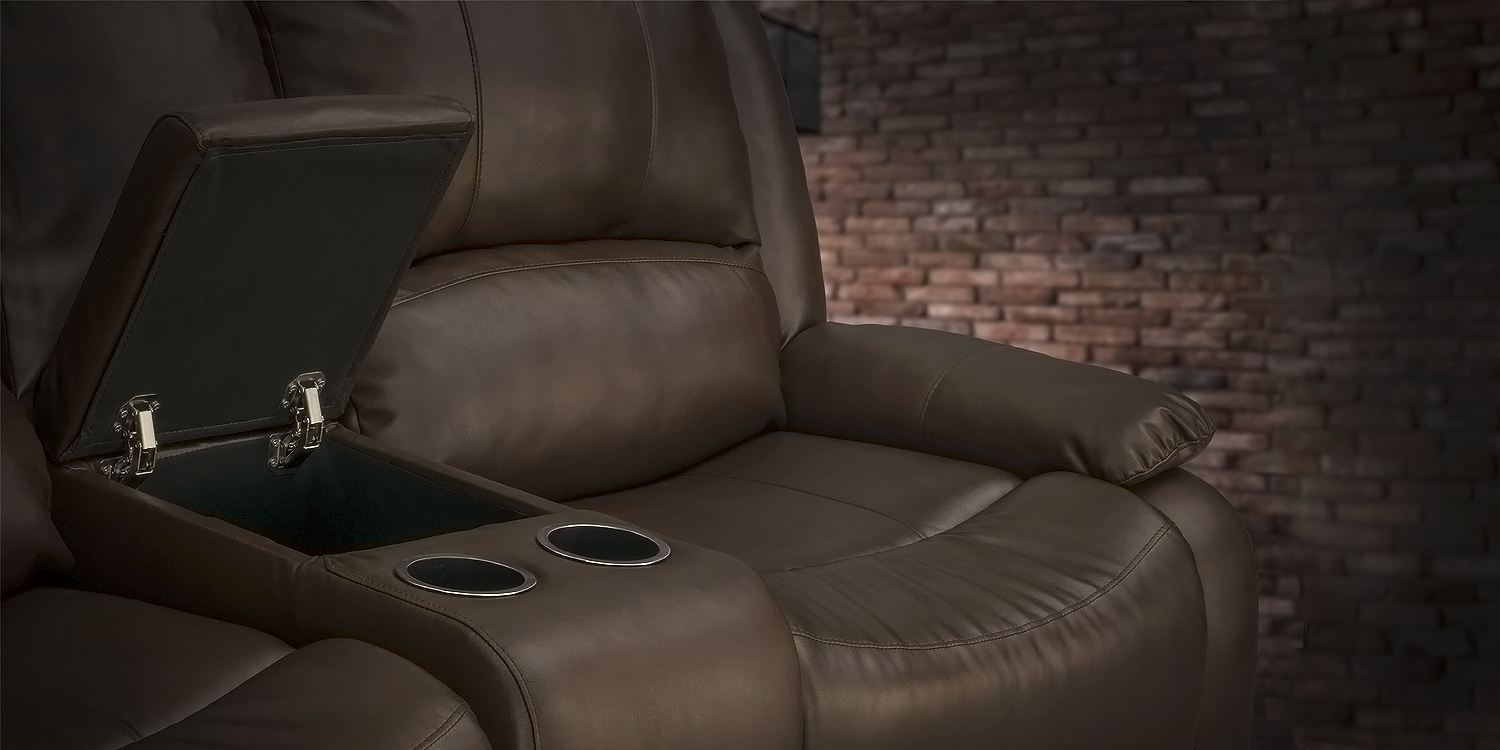 When you hit the road and you're riding cross-country do you want to be crammed into the anemically spaced factory-installed furniture that the RV industry forces on it's customers? Do you want to sit on hard cushioned sofas in the back of your recreational vehicle after driving through the mountains of Colorado for many hours? Our guess is, no. We wouldn't either, and if you're like us, you want the best in comfort, aesthetic, and design when it comes to your RV furniture collection. If that's where you're at, then let the family at RecPro introduce you to our Charles 67" Double Recliner RV Zero Wall-Hugger Sofa with Center Console.
The designers in the furniture laboratory here at RecPro have worked diligently for years to come up with just the right combination of contemporary design and outstanding comfort. We lost many scientists along the way, but it was worth it in the end with the results they achieved. Soft cushions on the Charles, that hug your entire frame, are wreathed in an easy to clean and durable faux leather that comes in a beautiful scaled Tiona pattern and multiple eye-pleasing colors to easily match to your interior decoration. We even give you, the amazing RecPro customer, the ability to match your stitching to your coverings. The smooth channels will blend perfectly across the piece with matched-stitching that will be sure to impress your guests. We could talk about the outsides of our beautiful 67" Charles all day, but that's only half of the conversation. If we neglected to make the insides as wonderful as the outside, we'd be just like a runway model who smokes five packs of cigarettes a day. Great to look at on the surface, but a train wreck on the inside.
What lies underneath of the Charles 67" Double Recliner RV Zero Wall-Hugger Sofa with Center Console is nothing more than the solid durability of a Siberian Lumberjack. The internal components of the Charles 67" are all metal and are not only solidly constructed, but allow for a smooth recline time after time. The recline mechanism is activated by a low-profile sturdy parachute grip handle which is tucked neatly away at the front of the cushion. Not easy to see to the untrained eye, but easy to access by you and anyone who sits on the "butter" soft sofa. It can be actuated again and again without fear of breakdown. We're so confident in our products, whether it be the Charles 67" or any other piece that we offer, we go above and beyond the rest of the industry with a 3-year limited warranty. Most only offer 1-year. They know why.
Durability, beautiful aesthetic, and design above the rest are wonderful, but what else sets the Charles 67" Double Recliner RV Zero Wall Hugger Sofa with Center Console apart. The sheer size of the piece does. Many recreational vehicle owners like to kick back and relax at the end of a long day and watch their big screen TV in their RV. What better way to do that than with this theater-style seat that easily fits two and has a center console with chrome (or black) cupholders that can store your favorite frosty beverage during the movie? There's also a generous storage area in the center console to allow for snack storage so you don't have to keep getting up and going to the mini-fridge while watching Lord of the Rings. Did Frodo get the ring to Mount Doom? You'll never know if you have a regular factory sofa with no storage that keeps you out of your seat all movie long.
The unique modular design created by the engineers here at RecPro does more than just allow you to mix and match your dual recliner with different center consoles, it also makes ease of installation a reality. When the Charles 67" Double Recliner RV Zero Wall-Hugger Sofa is shipped to you it arrives in two sections with removable backrests that make that installation a snap. When we say "snap", we don't just mean easy. We also mean speed. Once you peel the items out of the three boxes they're shipped in, you can install them in around a ten-minute time frame. They're also designed with a slim profile, unlike others in the industry, that make our units able to fit in the tight doors of RV's and campers. A problem most RV owners run into when they finally decide to upgrade their factory furniture. Tight spaces and narrow doors are no match for our Charles 67" Dual Recliner. Don't let the size fool you. It will fit in most doorways in the recreational vehicle market out there.
It's not just the ability to fit through tight spaces that make the Charles 67" a winner. We don't just call the Charles a "Zero Wall-Hugger" for fun. With only 3" of clearance needed on the backside of the dual recliner to reach fully reclined position, the Charles can make even the smallest spaces comfort accessible. The sofa is designed to fit with the foot pad even being raised off of the floor to give clearance for rails and other low-profile floor obstructions that can exist in a pull-out.
With so many pluses to the Charles 67" Double Recliner RV Zero Wall Hugger Sofa with Center Console, you don't really need to look elsewhere for the best in comfort, durability and design.
Features:
Modular structure that ships in three sections make it easy for installation in small and narrow spaces.
Center console with two cup holders and easy flip up storage area
Double recline - easy pull latch on each side
Space saving double recliner only needs 3 inches of clearance
Easy to clean faux leather (polyurethane)
Weight: 198 lbs
Specifications:
Dimensions: 67"W x 39"H x 37"D
Material: Faux leather Polyurethane
Pull lever on inner side of each recliner
Other Dimensions:
Overall measurements - 66"W x 36"D x 39"H
Frame - 49"W x 21-3/8"D
Frame: 16-15/16"W x 21-3/8"D (for each recliner) 39-1/2"W (recliners together)
Minimum depth required to fit on slide out is 36-1/4" with front of recliner overhanging the slideout
Minimum depth required to fit on slide out without overhang is 39-1/4"
From wall: 3"
1st recline position - 53"D
2nd recline position (all the way down) - 62-1/2"D
Base space from wall needed: 10-1/4"
Seat only (single recliner) 21-1/2"D x 21-1/2"W
Seat only (double recliner) 21-1/2"D x 42-1/2"W
Foot rest to floor (when fully recline) 17"
9" Console

Frame: 20-3/4"D x 9"W
Cupholder & armrest: 24"H x 23-1/2"D
Storage compartment: 7-1/4"W x 12"D x 8"H
Bottom base: 27-1/2"D
Cupholder: 2-3/4 diameter
*Any modification outside of manufacturer's suggested use (including, but not limited to, adding or removing mounting hardware, seat belts, brackets, clamps, etc.) immediately voids all warranties and waives liability from the manufacturer and all their subsidiaries*
*Please note: lighting, decor, and interior design may slightly alter color appearance of sofa*
*Powered option only available on left arm facing and right arm facing (left and right ends of the sofa) modular pieces*
View All
Close
131 Reviews
Write a Review
RecPro® Charles Collection
RecPro Charles 67" Double RV Wall Hugger Recliner Sofa w/ Console
RecPro Charles 67" Double RV wall hugger Recliner sofa w/console

order on Monday of Thanksgiving week, received day after Thanksgiving. Packed well, no damage, installed easily and extremely comfortable. money well spent

It arrived this morning exactly like it was supposed to. No real damage to boxes and furniture was well packed and protected. Took us between 20-30 minutes to install and put together but partly our fault because we had the backs on wrong sides to start out. We'll be heading south in a couple weeks and I'm looking forward to having more living room space this piece has afforded us. When they say the material is buttery soft they aren't kidding.

Charles 67" Double RV Wall Hugger Recliner

Placed my order for the recliner sofa on Monday 10/15/18 at 1pm ET and my order was delivered Wednesday 10/17/18!!

Unboxed the order and everything was packed in cloth bags and then wrapped in heavy plastic. Packaging was awesome and the recliners and center console were in perfect condition.

Got them installed in our new travel trailer Wednesday evening and all i can say is they are PERFECT! Fit, finish and comfort are beyond expectations. Thank you RecPro!

VARY NICE EASY INSTALL FAST SHIPPING NICE PACKING JOB I SHOULD HAVE DONE THIS SOONER .

RecPro Charles 67" Double RV Wall Hugger Recliner Sofa w/ Console

Great Product - easy to put together, extremely comfortable and fits perfectly in space we previously had 2 swivel rockers. We have taken 3 trips since purchasing. We removed our swivel rockers as they would hit the windows and walk while traveling. The recliner is perfect: doesn't require a lot of space and when traveling stays in one place. We weigh between 200-255 and can fit easily into the recliners. Fantastic Product! Would purchase another one without any reservations.


RecPro Charles 67" Double RV Wall Hugger Recliner Sofa w/ Console

Very nice loveseat. Very comfortable. No problem installing. We got the power version. I had a knee replacement so kicking it closed might have been a problem. Really happy so far.

Charles 67 wall hugger recliner with console.

Purchased this for our new 2019 reflection which came with trifold sofa bed. My wife wanted a recliner and was told you can't get one to fit. Wrong this fits perfect and so easy to install. Came in 3 boxes, five pieces, goes together no problem. I'm 6 ft 200 lbs and it's comfy for me.

I think it's the best piece of furniture I ever bought! Love it! 100% satisfied! We put it together in our house before installing it in our Class C Motor home, just to make sure it fit together and there were no problems. The only problem is that I love it so much, I want to keep it in the house! The recliners are great quality and I love the lumbar support they have. We should have done this a long time ago!

RecPro Charles 67" Double RV Wall Hugger Recliner Sofa w/ Console

Received the super fast I order it Mon. night and received it Wed. morning. was well packaged no problems there. It looks great Chestnut color matches amazingly well only difference is our TT upholstery has a tan stitching and this does not but the only thing that has that now is the dinette cushion so it is not an issue. This fit perfectly into the area we removed the Jack knife sofa, and so far this seems so much more comfortable to sit on we have not yet been out yet but leaving Thurs. for a 4 day trip. installation and assembly was as easy as it gets pretty self explanatory. Very well worth the upgrade.

recpro-charles-67-powered-double-rv-wall-hugger-recliner-sofa-rv-loveseat/

Love the recliner. Would have given it a 5 except the install instruction leave a lot to be desired, especially how to secure it down. Once we got past that things went smoothly.

Charles 67 double rv wall hugger recliners

Easy to assemble, soft comfortable and arrived on time. Love them and they look great in our camper.

recpro 67" double recliner w/console

Arrived in 2 days! Looks great, easy set up, super comfortable. Very happy with recliner and service

RecPro Charles 67" Double RV Wall Hugger Recliner Sofa w/ Console

Perfect fit for 24.1 Thor Axis. When mounted on front of slide platform it leaves the table storage in place minus the table legs. The quality is far superior to original pull out couch . The recliners are very comfortable. I am 5'11 and 200 lbs and I fit perfectly. The Mahogany color blends very well with the Axis interior colors and seems very durable. I screwed the unit to the floor using the floor screws removed that anchored the old pull out couch.

The product was shipped , with one very miner cut. We had a bit of a problem installing. But, a friend of mine came up with the idea to put wheels and an extension out under the recliners. It worked out great and I told him to patend the idea, no he said. But, we are totally happy with the way they came out and so glad as my wife has to sleep in a recliner. So, it's on our way to camping, someday sone I hope???


Love this double recliner. Very comfy.
The cup holders are small an the silver in cup holders is rubbing off, setting the look of the recliners off. Any body else having this problem?

Chsrles 67 Reclinet w/console

Very pleased wth quality and service. Well worth the price.

CCharles 67" Double RV Recliner Sofa w/ Console

Came very quickly about three days after ordered in three boxes. Was easy to get the parts into the RV. In fact the old unit was more work to remove than it was to install the new. I unboxed the large boxes in my garage so that I could carry the two parts (back and bottom unit) into the RV easier. The only sort of heavy item was the bottom seat unit. Installation was very easy in the RV, only some type of installation instructions would have been very helpfully. There was no documentation with the furniture at all. My only other comment is that the furniture came with no warranty information and I think that should of been included. The chairs are very comfortable sit you well and the power recline does work very smoothly. The blue light around the cup holders were unexpected but a nice touch.

It fits perfectly into our space in our camper. It was easy to assemble and I like the way it feels when sitting in it. We haven't been camping since we put it in but are looking forward to it

RecPro Charles 67" Double RV Wall Hugger Recliner Sofa w/ Console

Item arrived sooner than expected and fit perfect in place of the Dinette that was there. The recliners are much more comfortable than the booths. The recliner sofa was an easy fit through the door of my Minnie Winnie. Assembly was a breeze. Love Them!

We installed the recliners in place of the couch/bed which was original equipment. The recliners have made a huge difference in the way we enjoy our interior space. So glad we made the purchase. Install was very easy also.
View All
Close
Write a review