Shipping & Returns
ON MOST ITEMS, SHIPPING IS FREE!
With RecPro customers avoid issues associated with slow-shipping times and delayed processing. We maintain high stock levels so that most products will ship quickly. At RecPro we ship your orders using FedEx, or USPS Priority Mail, and our products will arrive to your home expeditiously. Please see the map below for estimated transit times. We ship within the continental US only. We do NOT ship to Alaska or Hawaii.
International orders may be shipped within the USA to a freight forwarder of your choosing. We are not responsible for any taxes, tariffs, or duties associated with international orders.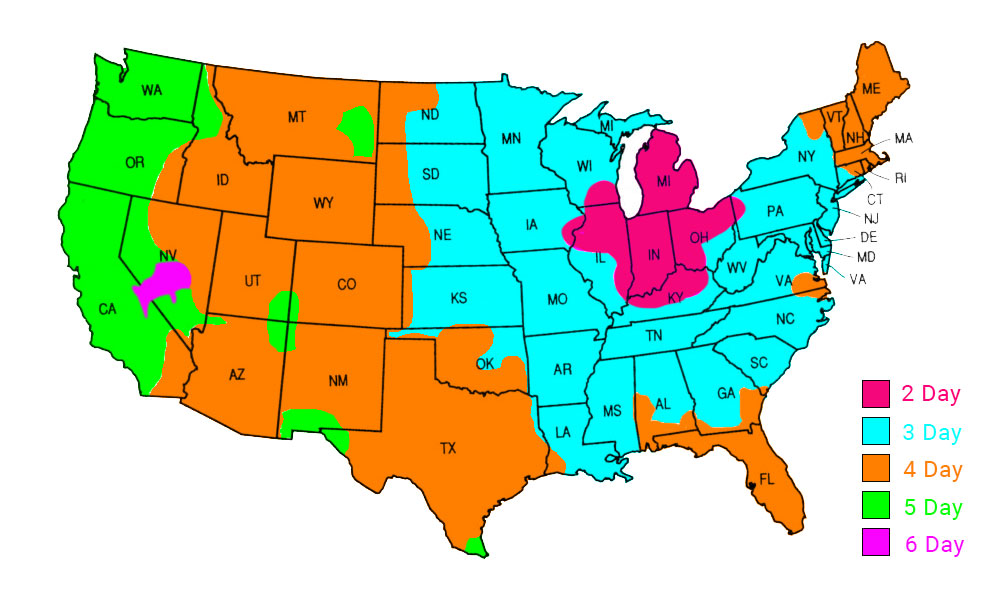 Shipping Policy
Standard Handling Time
1 business day (Order placed on Monday will ship Wednesday.) Standard 2-5 day shipping*.
Express Handling Upgrade
For just $5, upgrade to Express Handling! We'll prioritize your order processing and have it shipped by the next business day. Standard 2-5 day shipping. Express Handling will not override lead times on custom or made to order products.
Signature Delivery Service
For an additional $9, carriers offer signature delivery service. You can have peace of mind for the delivery of your package, knowing you will be present for its arrival. This service is purchasable within your cart, just before before checkout.
Overnight & Express Shipping
Give us a call at 574-848-0405 to arrange for Overnight or Express shipping of important parts and components.
Overnight/Express shipping fees will be added to your order total. For same-day shipments, be sure to order by 11am EST.
Some product kits require extra time to assemble, and in some cases it may not be possible to express/overnight ship large "rolled" kits including roofing, flooring, and siding.
*all shipping times are estimates
Freight Orders
Some of our products are oversized and cannot be delivered using conventional delivery services. For these products, we use FedEx Freight. Orders that are shipped via Freight arrive on a wood pallet that can be discarded upon receipt. Prior to delivery, a FedEx Freight representative will contact you to schedule a delivery window, in some cases, you do not need to be present during delivery.
Delivery Address Types
When ordering a freight item from RecPro, you'll be prompted with the question of "Residential or Commercial address?".
A commercial address is a location which has either a loading dock or forklift available to unload the shipment.
A residential address is a location that requires the delivery vehicle to unload the shipment via liftgate.
For the best experience receiving Freight orders, we recommend the following:
Provide a valid phone number where you can be reached. FedEx will contact you to schedule a delivery appointment.
Be honest about your delivery location. If you specify Commercial address and you are not able to unload the shipment yourself, FedEx will schedule a new appointment with a liftgate equipped vehicle; RecPro will not be held responsible for any additional fees incurred as a result.
If the commercial address does not have access to a loading dock or forklift, you should select Residential as your location type.
Missing a freight delivery window may result in additional fees billed directly to YOU by FedEx.
Opening Packages
Always use a cut-safe style of box knife to open packages. Safety knives (with retractable blades that give minimal penetration) will keep you from slicing a portion of the product if applying too much pressure, and cutting too deeply into the package
Always cut away from yourself, not towards yourself
Always have the package on a stable surface before opening (preferably on the floor.) Any elevated surface (even a table) creates the potential for an injurious incident
Always use adequately sharpened cutting instruments. Dulled blades are more apt to injure the user
Shipping Tubes
Be very careful when opening these tubes
These are to be opened at the ends by removing the plastic caps. It's recommended that you remove the staples holding in the end cap before prying open the cap.
DO NOT open from the center at any cost. Do not try to gain entry to the tube by cutting, smashing, ripping, tearing, mangling, slicing, puncturing, shearing, breaking, or manipulating, in any way, the cardboard outside.
If you have any questions, or you are unsure about the approach, regarding entry to a package you received from RecPro, please call our Customer Care Department
Order Changes and Cancellations
We thrive to process our orders as soon as possible, usually within 24-48 hours. This means you can get your order earlier but this also means that, if you wish to change or cancel your order, you must contact us immediately. You can contact us either by phone (during business hours) or by email at info@recpro.com.
Address Corrections
After checkout, please make sure to review the shipping address on the confirmation page or order receipt that you will receive via email. Please make sure to check your spam folder. Similar to order changes or cancellations, it's important to contact us as soon as possible if you want to make any address changes. After the package has been processed and/or shipped, changing the shipping address is not always possible. Please note that a change of address with the shipper does not guarantee it will arrive at the changed address, and may also increase delivery times.
Undeliverable Packages
Sometimes packages are lost, delayed, or undeliverable. However, we are not responsible if this happens because of incorrect address or delivery issue. If packages are undeliverable and returned to us undamaged, they can be reshipped or refunded. Reshipping the package will occur at the expense of the recipient and refunds are available for the cost of the product(s) minus the return shipping cost.
Lost or Stolen Packages
Having a secure delivery location is important so that recipients can receive their package safely. When packages are shipped, they include tracking and delivery confirmation. If there is a delivery confirmation but the recipient has not received the package, the package is considered lost or stolen and we file a trace investigation with the carrier to recover the package. If the package is not recovered within 48 hours, we file a claim with the carrier for the lost package, however, we do not offer refunds for lost or stolen packages. In order to prevent packages from being stolen or lost, there is an option for signature service (please see "Signature Service Delivery" below).
Damages/Defects/Wrong Item Sent/Missing Parts
When you receive your package, it is important that you inspect it for any issues. If you find any missing, damaged, or defective products, let us know within 48 hours of delivery. Depending on the value of the damaged product, we may request photos of the damage. Report any issues to us by phone (during business hours) or by email at info@recpro.com. We take responsibility for missing, damaged, or defective products and will replace parts or the full product with an undamaged replacement of the same item, however, we do not issue refunds for them. Products may need to be returned upon our request, at no cost to the customer.

Return Policy
You may return most undamaged items within 30 days of delivery for a refund. It is recommended that you keep any packaging materials in the event that you would like to return an item.
You should expect to receive your refund within 2-4 weeks of giving your package to the return shipper, however, in most cases you will receive a refund sooner. This time period includes the transit time for us to receive your return from the shipper (5 to 10 business days), the time it takes us to process your return once we receive it (3 to 5 business days), and the time it takes your bank to process our refund request (5 to 10 business days).
Furniture
Must be returned in its original packaging, or we reserve the right to refuse your return and a refund will not be issued.
Air Conditioners
Must be returned in the original packaging, or we reserve the right to refuse your return and a refund will not be issued.
If you need to return an item, please Contact Us with your order number and details about the product you would like to return. We will respond quickly with instructions for how to return items from your order.
Non-returnable items
All custom items that require a lead time
Custom blinds
Roller Shades
Custom baggage Doors
Custom Dinette Tables
Custom Head Knockers
Custom Pleated and Shower Doors
Custom Valances
Custom Windows
Custom Concession Windows
Entry Doors
Mattresses
Mattresses included with Hide A Bed*
Custom Water or Holding Tanks
Used Holding Tanks
Used Macerator Pumps
These products are made specifically for your order, per your specifications, and are not returnable. Nor, are they refundable.
*Hide A Beds can be returned, however the memory foam mattress cannot be returned. Therefore, the mattress price will be deducted from the refund.
Mattresses
Due to Indiana Law, we cannot accept returns, or provide refunds, for opened and/or used mattresses. Please make sure to measure correctly before purchasing.
**ATTENTION** TO ALL CUSTOMERS SEEKING TO RETURN FREIGHT ITEMS. IF YOU DO NOT HAVE A VALID PHONE NUMBER AND ADDRESS, YOU WILL NOT BE ISSUED A REFUND. THERE ARE NO EXCEPTIONS TO THIS RULE.
COST AND SALES TAX UPDATE:
Due to regulations governing the buying and selling of goods online, there are certain states that are currently having a sales tax added to their purchase.
As the government (both in the states, and nationally) continues to increase the oversight of online sales, we will be updating this list to reflect the states that will be charged this tax. Check with your state government if you have any questions about the sales tax levels of your state. They can vary for not only online purchases, but may also fluctuate because of the items being purchased.
DELIVERY OPTIONS
While we maintain some of the best delivery times and practices in the RV aftermarket industry, some shipping services are provided by other companies, and eCommerce Storefronts (such as Amazon), that RecPro does not provide. To clarify, here are lists of the shipping services we will, and will not, provide directly or through our carriers:
Shipping services RecPro WILL provide:
Shipping on non-freight items, shipped within 1-2 business days
Shipping of freight items
Shipping of modular items in one convenient box (per item)
Shipping to business or residential* locations
Upgrades to shipping tubes for certain items
Secure packaging
Industry-leading warranties
Option for insurance
Reviewing tracking numbers for customers
Shipping services RecPro does NOT provide:
Installation of goods (either on-site or at the customers home/RV/trailer/campground/etc.)
Removal of goods, or old furniture, from your residence or RV (on-site/RV/home/trailer/campground/etc.)
Carrying your furniture upstairs to apartments/town home/house/or any other residence
Arrange for delivery inside of your home with the carrier
Arrange for installation in your residence/vehicle/trailer/etc. through the carrier or other agency
Set appointments
RecPro, while selling through eCommerce platforms (Amazon, eBay, Jet, etc.), is not required to offer in-home delivery services or removal of items for customers (even if these are available services through Amazon, eBay, Jet, etc.)
Arrange for movers to put furniture in your home, or remove furniture in your home
Opening claims with shipping companies for the customer
Any other activity, in the entirety of the process before/during/after that is outlined above, or omitted from this list, that may arise as a consideration later

RecPro is not responsible for any fees accrued due to missing the delivery time as scheduled by FedEx. RecPro is not responsible for any fees accrued in a delivery reattempt requested of FedEx. Please ensure that you are present for scheduled freight deliveries.
**RecPro rules and regulations regarding shipping are subject to change at any time at the discretion of RecPro**
***We do not ship to Hawaii, Alaska or Puerto Rico