RV Window Shade for Entry Door with Snaps - Black
SKU:

RP-WS-B

UPC:

606345302061

FREE SHIPPING

100% GUARANTEE
Description
There is a myriad of things you don't think about when it comes to stepping into the RV lifestyle. At first, you're concerned about the big picture items. You have your checklist. You've watched the videos online. You're good to go. You hit the road. Life is perfect. Then you get to your first campground and park in your reserved spot. You're tired, you lie down for a nap, and then it hits you. Not the small thing you missed. Literally, it hits you. The Sun. In your face. You need daytime blinds. You don't have time to go through the lengthy process of measuring, ordering, and then putting up hard-to-install blinds. You need something you can install in a snap. Don't worry. We're RecPro, and we've got what you need.
Introducing the simple yet RV-improving snap on canvas shade from RecPro. With a quick installation of four screws into your desired window or door frame you could have a blind that nicely blocks light and UV rays as well as adding privacy to your unit. A much-needed feature at some campsites. Quality design is seen throughout as the tough canvas panel has a double-stitched frame to ensure tear resistance when you mount or take down your shade.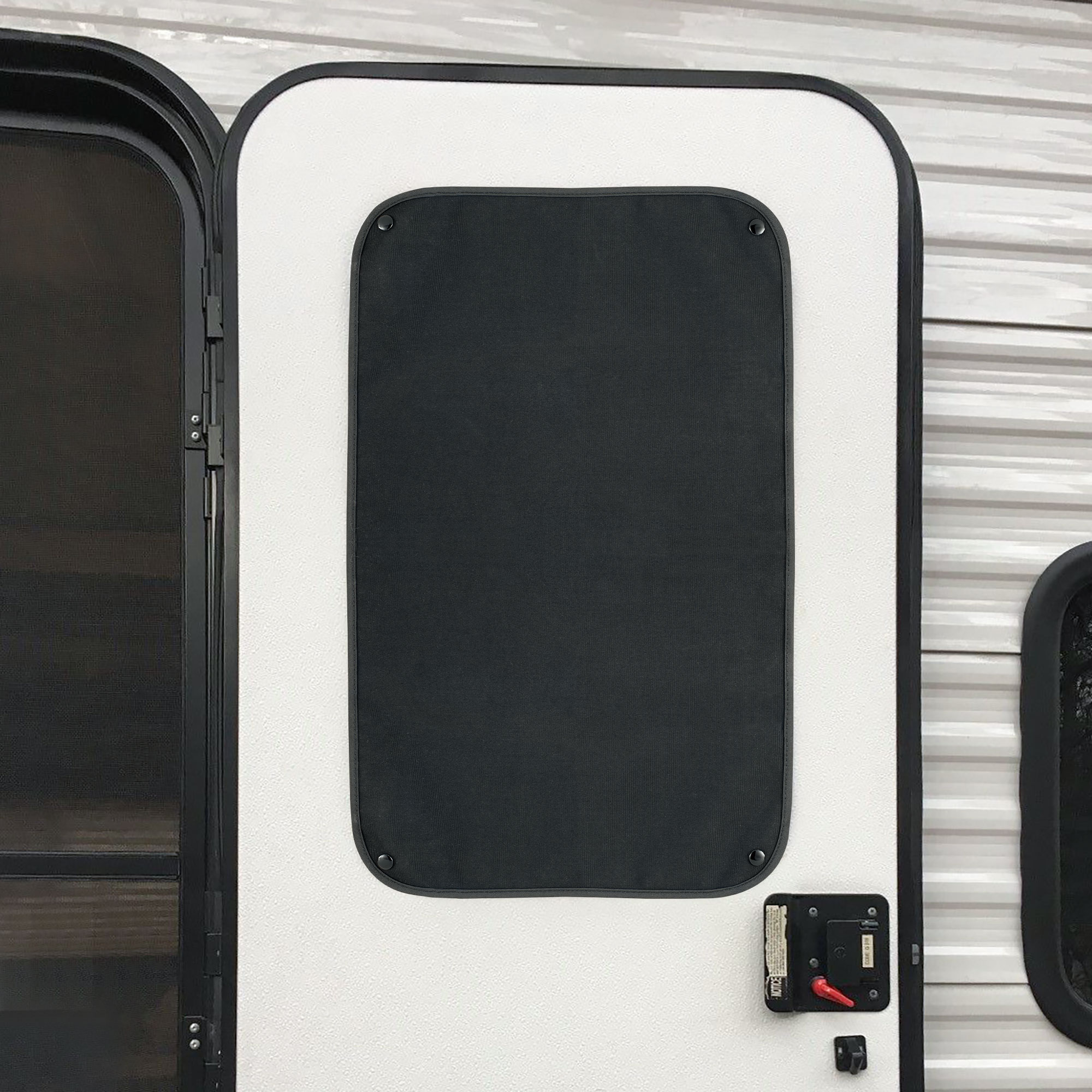 Blinds that are easy on the wallet, easy to install, and can easily be used in a multitude of applications is why you should call our friendly Customer Care Department and order yours today!
Details:
Material: Canvas
Color: Black
Dimensions: 24 3/4" H (actual)
Dimensions: 15 3/4" W (actual)
Dimensions: 1/8" T (actual)
Dimensions: 25" (button to button - diagonal)
Dimensions: 21 5/8" (button to button - height)
Dimensions: 13 1/2" (button to button - width)
Easy installation (should take only 10 to 15 min.)
Snap-on attachment
Sun shade and privacy screen
Lightweight
Hardware included: (1) screen - black (4) Screws (4) Snap grommets
Cross-functional: works in RVs, marine applications, homes, and any other place where sun protection and privacy are needed.
UV protection
Simple design is pleasing to the eye
Cools your interior
Creates cost savings (heat and UV block for windows, skylights, door windows, and more...)