RV Tandem Fender Skirt Minimal Style 68 3/4" W x 9 1/2" H - Puma
SKU:

RP-1180-BK

UPC:

193652042723

FREE SHIPPING

100% GUARANTEE
Description
Fender skirts are necessary for a few reasons. First, they help your RV look nice. Without fender skirts, your RV wheels would be left exposed, open for anyone to see. With a simple yet sleek fender skirt such as this minimal option, however, you can dress up your wheels to make your RV as a whole more attractive. Second, the fender skirts protect your RV wheel from the elements. While it might not cover the entire wheel, it helps to keep things thrown from the road as well as things falling from the sky (rain, snow, etc.) from ending up on the wheel. This helps to keep the wheel looking and working nicely for years to come. Thirdly, the fender skirts improve the aerodynamics of your rig. When your wheels are exposed, they tend to have more drag, which increases your fuel consumption and costs you more in gas money. With a fender skirt, you can decrease the drag and increase fuel efficiency, leaving more cash in your pocket. In addition, fender skirts are able to be removed so that you can get to your wheel if need be. With all of these important points that fender skirts add to your rig, it's easy to see why you're going to need one for each of your wheelsets. If you're on the lookout for one, then you're in the right place. With our selection of RV fender skirts, you can be sure to find one that will match your RV and your style.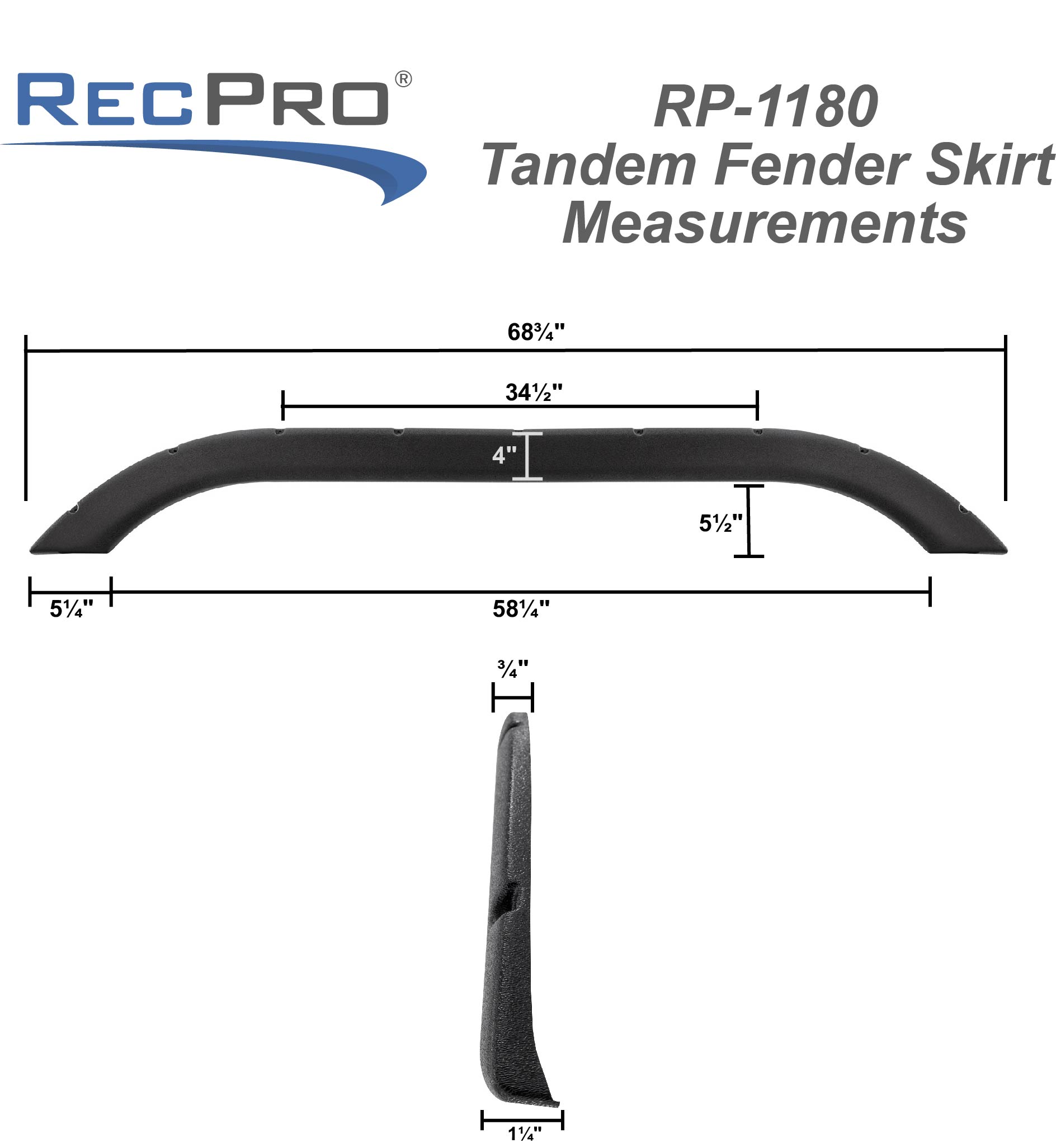 Details:
Dimensions: 68 3/4"W x 9 1/2"H (see dimensional drawing for exact measurements)
Color: Black
Material: ABS Plastic
Flared
Minimal style. similar with Puma
Textured to minimize damage and dings
Replacement for original fender skirt
Durable
Made in USA
*We are unable to provide specific vehicle fitments*
Made out of high-impact ABS plastic, these fender skirts are black in color and are durable enough to withstand the rigors of the road. With the curved legs and flared ends, they fit better and look better on your home on wheels. The textured pattern helps to decrease the chances of dings and dents. Make sure to check the measurements against the needed dimensions of your rig so that you can get the correct model. Have any questions? Contact us online or call our friendly Customer Care team today!