RV Tandem Fender Skirt Hefty Style - Sabre 70 1/2" W x 14 1/4" H
SKU:

RP-1182-BK

UPC:

193652042747

FREE SHIPPING

100% GUARANTEE
Description
Fender skirts are an important part of the wheel well. While they may not seem so, they serve many functions that directly affect your RV or towable. First, they make the wheel area look collected and attractive. With a nice looking fender skirt, you can tie together the exterior of your rig while adding protection and fuel efficiency. Your wheels are exposed to a lot on the road and without protection, they can be worn down faster. With the combination of the fender and the fender skirt, you can keep them in good shape for longer. When you're driving, your wheels are exposed to weather and anything that is kicked up on the road, such as gravel or dirt. With something around the tire to prevent these things from getting to them, the wheels last longer, keeping you on the road without stopping. As for the fuel efficiency, basically put, the wheel well creates a lot of drag. Wind gets in there and pulls at the rig, decreasing the fuel efficiency and increasing your fuel costs. With a fender skirt, it can help to redirect that wind, decreasing the drag and increasing your fuel efficiency, keeping more money in your pocket. And don't worry; your fenders don't have to look just like everyone else's with these hefty fender skirts, you can keep your RV as unique as you are, setting it apart from the other rigs on the road.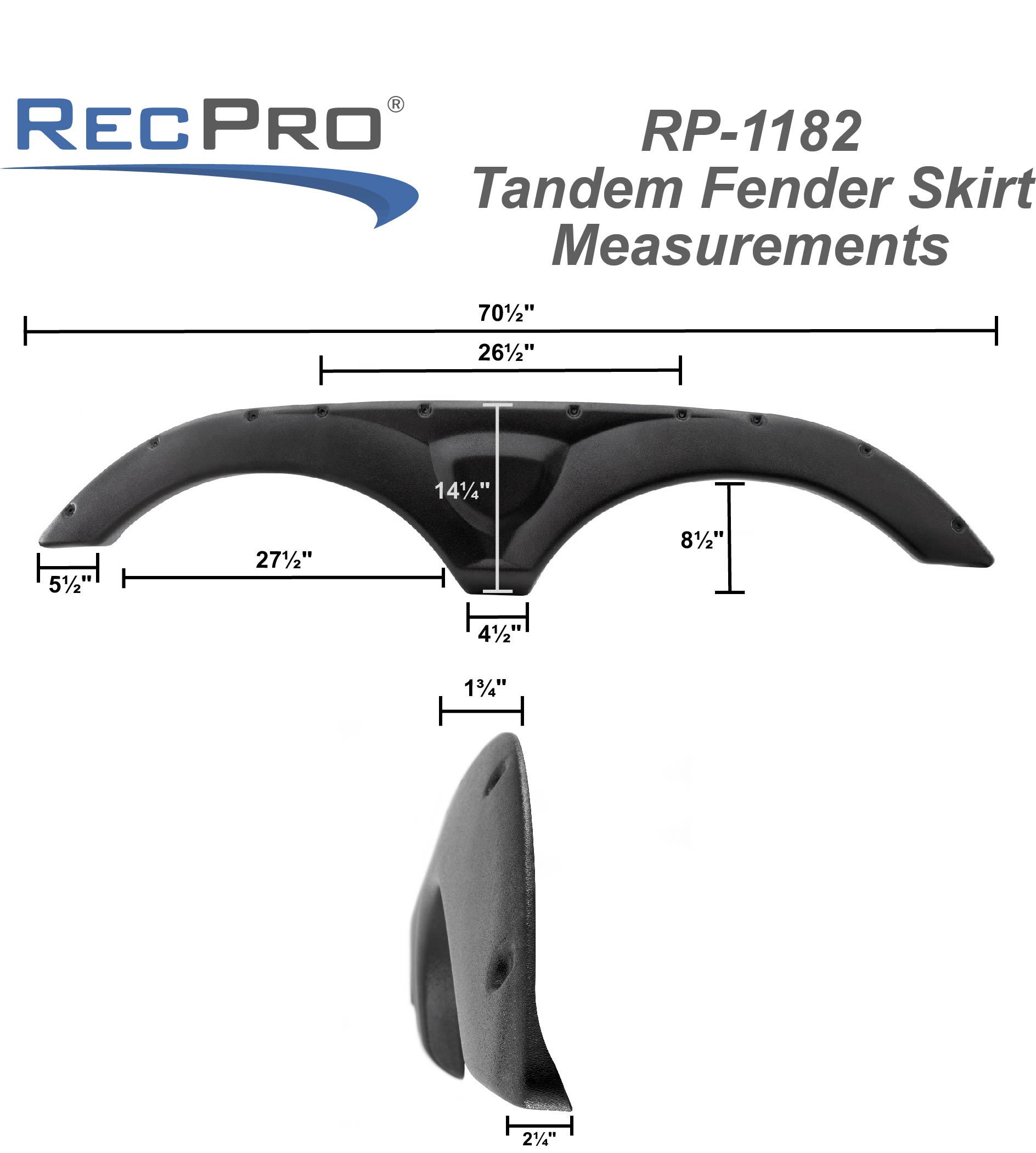 Details:
Dimensions: 70 1/2"W x 14 1/4"H (see dimensional drawing for exact measurements)
Color: Black
Material: ABS Plastic
Flared
Hefty style, similar with Sabre
Textured to minimize damage and dings
Replacement for original fender skirt
Durable
Made in USA
*We are unable to provide specific vehicle fitments*
Made of durable ABS plastic, these fenders are black in color, helping them blend nicely with any RV on the market. High-impact and strong, they will last you for years to come. The ends of the fender skirt are flared and the legs curve underneath the trailer, helping you with the installation and use. The textured pattern on the surface helps to minimize dents and dings, keeping them looking nicer for longer. Before ordering, make sure to check the measurements against the needed dimensions of your rig. Have any questions? Contact us online or call our friendly Customer Care team today!