RV Multifunction City Water Fill Panel Nautilus P1 10" x 15"
SKU:

RP-1172-P1

FREE SHIPPING

100% GUARANTEE
Description
The internal workings of an RV can seem like a maze. With the different hook ups for water, electrical, cable, and more, you can get lost when setting up your site. If you're tired of running around, looking for all of those ins and outs, then you need a control panel for them all. Luckily, that's exactly what the Nautilus panels are used for. These water management boards bring those many functions together to one location so you can clear up the confusion and step out of that maze. Set to help you fulfill many of your RV's interior functions, these are a great addition for your RV.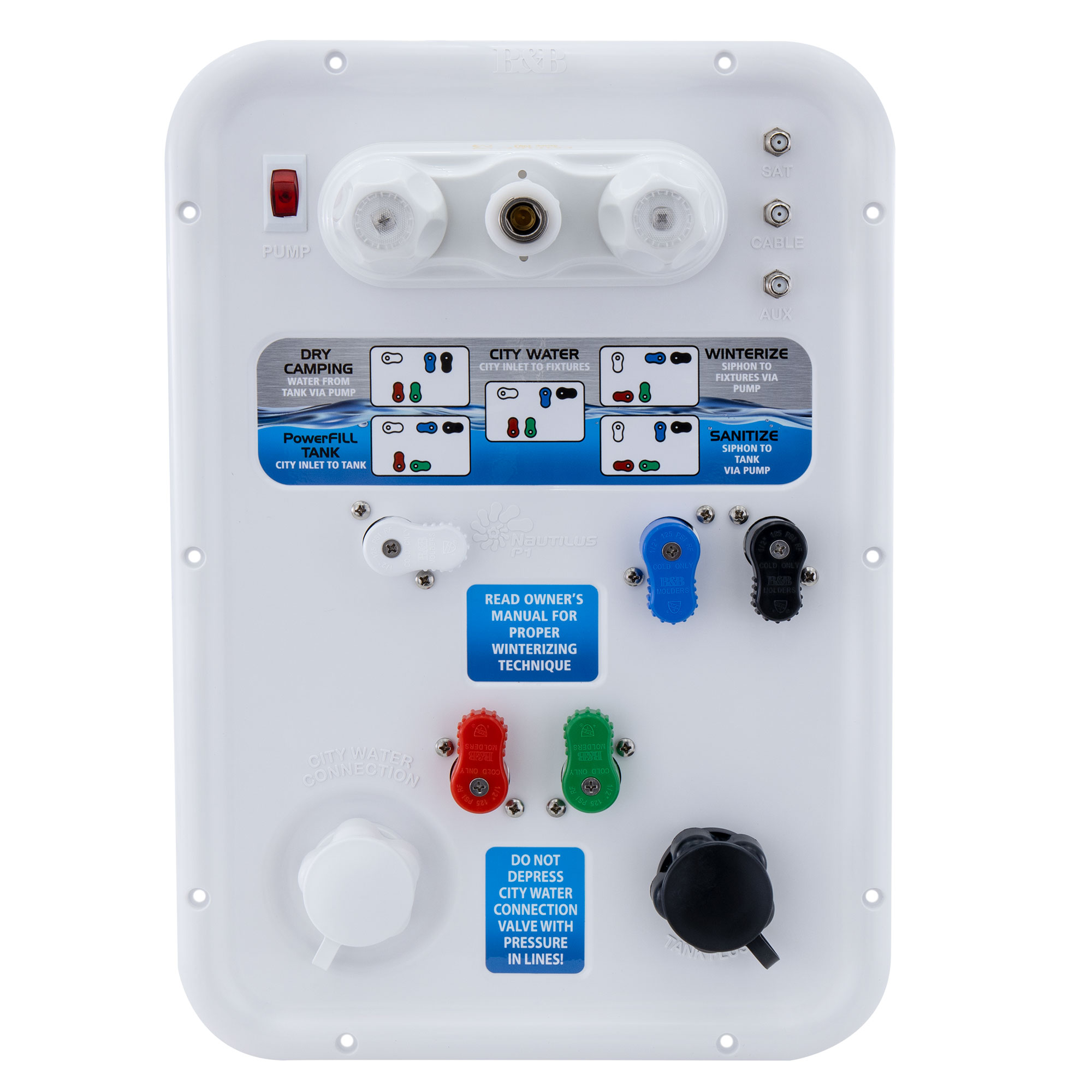 Click here to view the Installation Guide - Click here to view the User Manual
This RV control board serves many different functions:
- It serves as a port to Powerfill your fresh water tank. Quickly filling your tank, this port replaces the city water fill or gravity fill hatch.
- With the water pump button located on the panel face, you can use the pump to supply your water fixtures with pressurized water from your fresh water tank.
- Through the siphon fill or sanitize option, you can use the pump to siphon fill or sanitize your fresh water tank from a bucket. With the pressure from the pump, you can fill the tank with either liquid quickly and without the help of outside pressure.
- Through the water fill inlet, you can connect to the city water at your campsite to supply water to your water fixtures.
- Through the winterizing function, you can get your RV plumbing system ready for winter. The panel also allows you to bypass your hot water heater when winterizing to avoid water heater damage.
- The tank flush function connects to a breaker/check valve so that you can flush out your black water tank, preventing sewage buildup and lessening any potential smells.
- The hot/cold faucet on the front of the panel helps you to rinse off shoes, tools, and other items outside of your rig.
- There are three connector ports for satellite, cable, and auxiliary cables available for use.
Frustrated with jumping all over your RV trying to find all of those ports and connections? Solve that problem with this Nautilus water management board. Have any questions? Contact us online or call our friendly Customer Care team today!
*User instructions included. Read before installation and usage*
*Harness Kit does NOT come pre-assembled*
This RV water control panel measures 16 3/4" high by 11 1/2" wide by 5 1/2" deep, with a cutout size of 10" by 15".
All hose connections are 1/2".
Features:
Serves as a control hub for multiple functions throughout your RV water system
Power fill your fresh water tank for dry camping
Use your pump to supply water to fixtures from fresh water tank
Use your pump to siphon fill or sanitize your fresh water tank from a bucket
Connect to city water at the camping site to supply water to fixtures
Winterize your plumbing lines and fixtures
Bypass hot water when winterizing to avoid water heater damage
Rinse black tank to help control odors and prevent sewage buildup
Rinse off items outside RV with a hot/cold faucet
Made in America
Details:
Connections for SAT, cable, and AUX cables
*User instructions included. Read before installation and usage*
Cutout size: 10" x 15"
All hose connections are 1/2" NPT
Dimensions: 16 3/4"H x 11 1/2"W x 5 1/2"D
Color: White
Made in USA
Nautilus Install kit includes all of the necessary hardware:
7 Feet of Blue Pex Hose
5x 1/2" Barb Elbow Fittings
6x 1/2" Barb Tee Fittings
36x Hose Clamps
6x Elbow Swivel Fittings
6x Straight Swivel Fittings
View All
Close