RV Dinette Booth Table Leg | Premium 27" Dinette Post | Modern Elegant RV Dinette Stand
SKU:

RPTL-KIT2

UPC:

606345300784

Shipping:

Same Day Shipping if ordered by 11am est

FREE SHIPPING

FREE RETURNS

100% GUARANTEE
Description
You only possess so much room in an RV and that's a fact. While some of your maximum sized recreational vehicles (in the 300k – 400k range) can be considered "roomy", all rigs on the road suffer from lack of real estate. Designers work very hard to maximize the space inside your motor home by engineering recessed slide-outs, cabinets, fixtures, and a multitude of other hidden spots that would make a CIA spy impressed with the design. It's a utilitarian function of having a moving home on the road. If you want the conveniences of your house to come with you, you need to find a work around to make that possible. At RecPro, we've done just that.
With the introduction of our lightweight storage-minded dinette sets, we are bringing to the table (literally) a strong and transformable Dinette Booth Table Leg. This lightweight post (with foot pad and table base supports) is as strong as any supports on the market, but with only half the weight of its competitors. It's not just about gas efficiency with the products we offer here at RecPro. Though we know that it is a major contributing factor in the decisions you make regarding everything you put into your rig. We also know it's about ease of use.
When you're converting your dinette into a bed, or an additional seating area, you want there to be an easy transition process. Some dinette and table sets have a complicated locking mechanism that hinders, or downright stops, the transition from dinette to resting apparatus. At RecPro we know that people like simple solutions to complex problems. So, we made sure that we provided a solution that would be a sure fit for your needs. We now offer this dinette table leg that has a top and bottom compression-fit feature. By doubling up the compression base to the bottom and top of the leg, we have created a quick assembly and disassembly package for your dinette set. By simply inserting the leg into the base (foot) of the assembly, and then the table top with base attachment underneath, you can have a table in seconds. This non-locking system with tapered capping is specially designed for easy assembly and removal.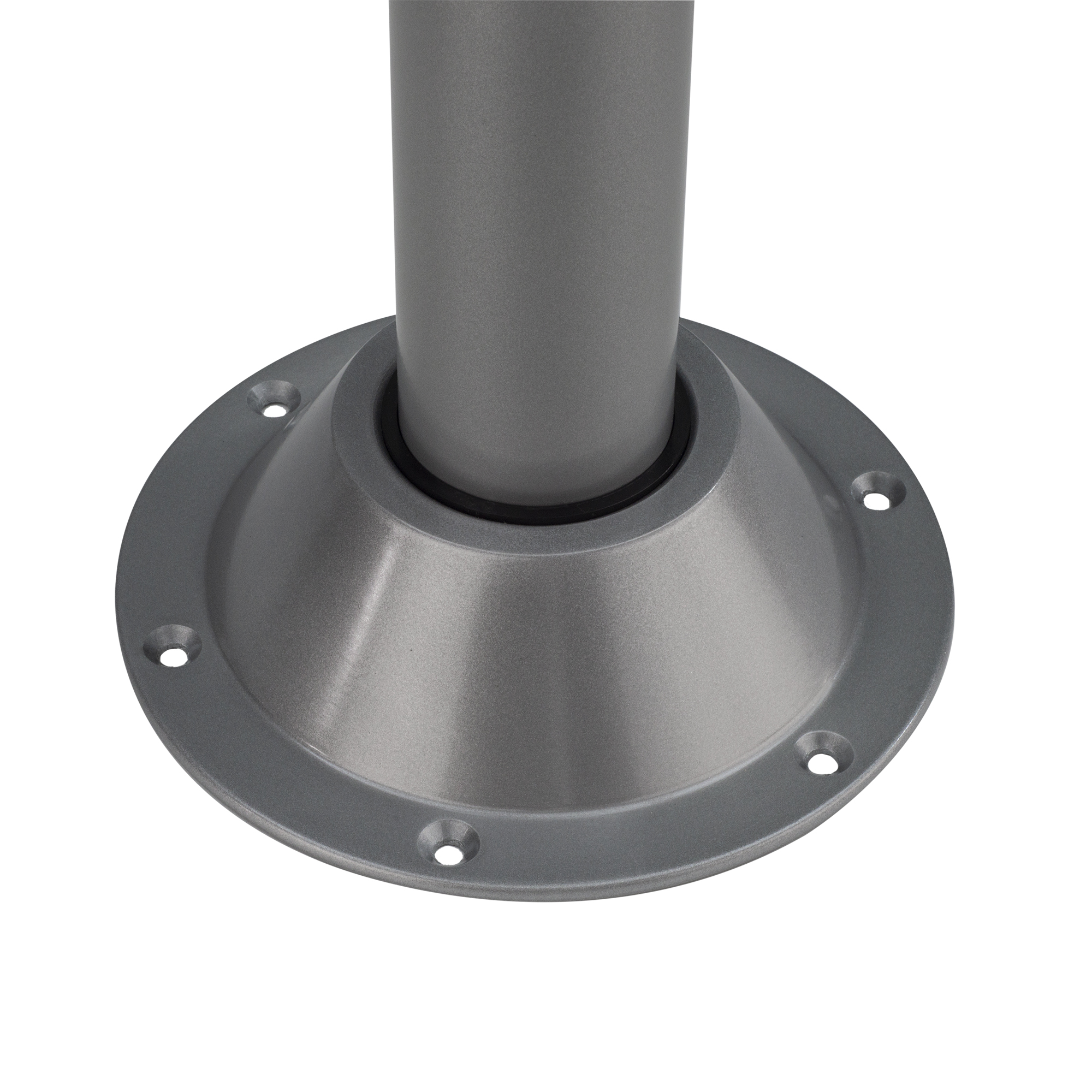 The bases are also designed with convenience in mind. They feature a slightly raised well and are nearly flush with the floor for movement free access when the table is in storage. This post and connecting bases will complete the package when it comes to your dinette set up. Call our Customer Care Department and order yours, today!
Details:
Overall height – 27"
Leg diameter – 2"
Tapered cap diameter – 2.25"
Base diameter – 6.5"
Weight – 2.8 lbs.
View All
Close