RecPro Charles RV Gaming Chair and Ottoman with Storage
SKU:

GAM-25C

FREE SHIPPING

100% GUARANTEE
Description
RecPro Charles Gaming Chair Ottoman with Storage RV Furniture
The Gaming Chair Ottoman from RecPro is the ultimate example of comfort and practicality in the world of RV living. The best products for RVs and trailers blend the best of both worlds. But having a compact and comfortable chair wasn't enough for the design team here at RecPro. We knew that we had to push the limit of engineering to make the ultimate compact piece that had form, functionality, and something more. We knew our customers needed design with depth. So, we made this tiny titan not only a transforming piece of furniture, but a space for storage as well.
The RecPro Charles Gaming Chair maintains exceptional quality standards and features the most up-to-date modifications in the industry, all while providing lasting comfort and being user friendly. This model is called a "gaming chair" because it is perfect seating for young adults to adults who want to remain comfortable while sitting in a chair for long stretches of time. Plenty of relaxing is had while playing video games and watching TV in this chair. Don't pigeon hole this chair, though; it has many other applications. Ideal for smaller living spaces, even by RV standards, this chair is also great for apartments, trailers, and smaller homes where you would like to add more seating in spaces where most furniture won't fit.
The Gaming Chair and Ottoman combination is designed to be a low-profile and compact piece. It's big enough to seat an adult, but it's close to the ground so that it saves space and will be just the right height when it's transformed into its ottoman form.
Features of the RecPro Charles Gaming Chair:
Compact design. Space is very important, so this chair is perfect for small spaces, smaller homes, trailers, and recreational vehicles
Ottoman transformation. This functional chair can easily transform into an ottoman, perfect to use as a coffee table, foot rest, or additional room seating.
Extra storage. In addition to being a 2-in-1 piece of furniture, your gaming chair also provides extra storage located under the seat
Attractive colors to choose from. With its sleek design and comfortable material, the RecPro Gaming Chair also comes in different color options. Choose from Chestnut, Putty, Toffee, and Mahogany to get a chair that best fits your design scheme
Features
Style: Charles Contemporary
Easy to clean Suprima Leather
Colors available: Toffee, Putty, Chestnut, Mahogany
Transforms from ottoman to chair in seconds
Storage underneath seat
Ships in 1 box, assembled
Dimensions: 25"W x 17"H x 20 1/4"D (ottoman)
Dimensions: 25"W x 28"H x 20 1/4"D (gaming chair)
Seat width: 18 1/2"
Seat cushion height from ground: 12"
Weight: 44 lbs
Suprima Soft-Touch Leather - Industry Leading 3 Year Limited Warranty
3-year limited warranty on structural components, springs, and mechanism.

2-year limited warranty on Suprima Soft-Touch leather and thread.

Made in China

200,000 Double Rub (Wyzenbeek Rating)

5 Year Hydrolysis

1-year warranty on mechanism actuator. (Cable Release)
*We do not condone using seat belts with our furniture unless they are installed by a licensed RV dealership. Doing so improperly may void the warranty.
*Any modification outside of manufacturer's suggested use (including, but not limited to, adding or removing mounting hardware, seat belts, brackets, clamps, etc.) immediately voids all warranties and waives liability from the manufacturer and all their subsidiaries*
*Please note: lighting, decor, and interior design may slightly alter color appearance of chair*
*We round up to the nearest inch of the piece*
*All furniture is designed to fit through a 22" door opening*
*Actual Size of chair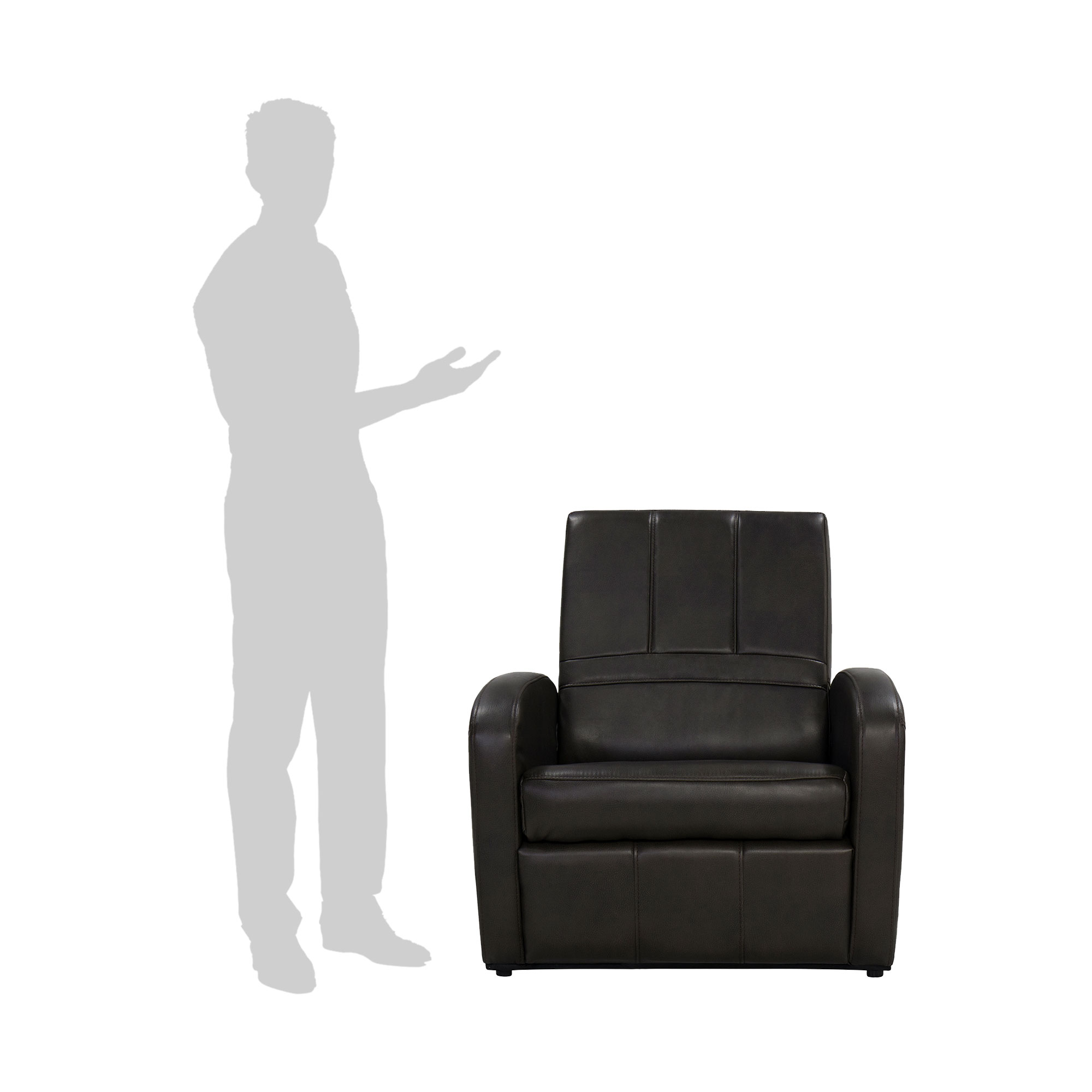 View All
Close