RecPro Charles 30" Powered RV Wall Hugger Recliner
SKU:

PZWR-30C

UPC:

606345299576

FREE SHIPPING

100% GUARANTEE
Description
What's the best thing about an extended day of driving across country? What about a long day of playing and working around the campground? What feels best to you after an entire day on the lake partying and playing with family and friends? One word: relaxing. If you have the standard level of factory-installed furniture, you would be hard-pressed to call what you do while you sit in those anemically-padded seats "relaxing". We understand this and we're here to help.
While comfort is one of the most important aspects of an enjoyable road trip in your recreational vehicle, an aesthetic appeal will also put your mind at ease. The right furniture can do wonders for enhancing your space, despite its smaller size. This is even more essential if you are living in your RV, trailer, or camper for an extended period of time. Furniture should blend in with your décor as well as be functional in the most space-efficient way possible. RecPro provides products that blend these features at the best possible value for your home away from home.
The solution to all of your furnishing concerns is the Charles line of luxury furnishings available exclusively from RecPro. We have created a relaxation experience that transcends the normal furniture applications you find in the Class A, B, and C's that are churned out by OEMs. It's all in the design.
Our buttery soft (our customers' words, not ours) Suprima Poly-leather has so many benefits, it's not hard to see why so many people rave about it. It's easy to clean, durable, and matches most décor with its beautiful crackled ("crazed") Tiona pattern. Available in our four designer colors (Toffee, Putty, Chestnut, Mahogany), it looks amazing in any RV interior. Our bounce-back fill would be enough to expound upon as well, but there is still so much more. The durable metal frame construction is another feature that our customers love. All of it adds up to one of the best sets of RV furniture that you'd ever put in your rig. That was, until we decided to upgrade.
The Charles line of luxury furnishings now has a powered recline option that has been added to the list of features. This includes the RecPro Charles 30" Powered RV Wall-Hugger Recliner. This recliner has all the luxury features that the traditional Charles pieces have always had but now you can recline with the touch of a button. No worries about internal mechanisms that you have to pull or push to get to operate. All you need do is reach down and push a button and the footrest will smoothly and easily extend out to the full recline position.
The simple control panel (placed within easy reach of your right hand and just below the armrest of the chair) also pulls the footrest back into seated position quickly and quietly so you don't have to use your legs to get the chair back to the upright seated position. This is especially beneficial if you or your guests have troubles with their legs, joints, or just getting out of chairs in general.
Another step towards RV furnishing excellence is our addition of current technology to this chair and the other powered options in the Charles line. We tasked our designers with finding a functional spot to place a charging station within the furniture and they did not disappoint. Right next to the controls, we've placed a USB port so you can charge your devices and have them right there where you need them when your family calls.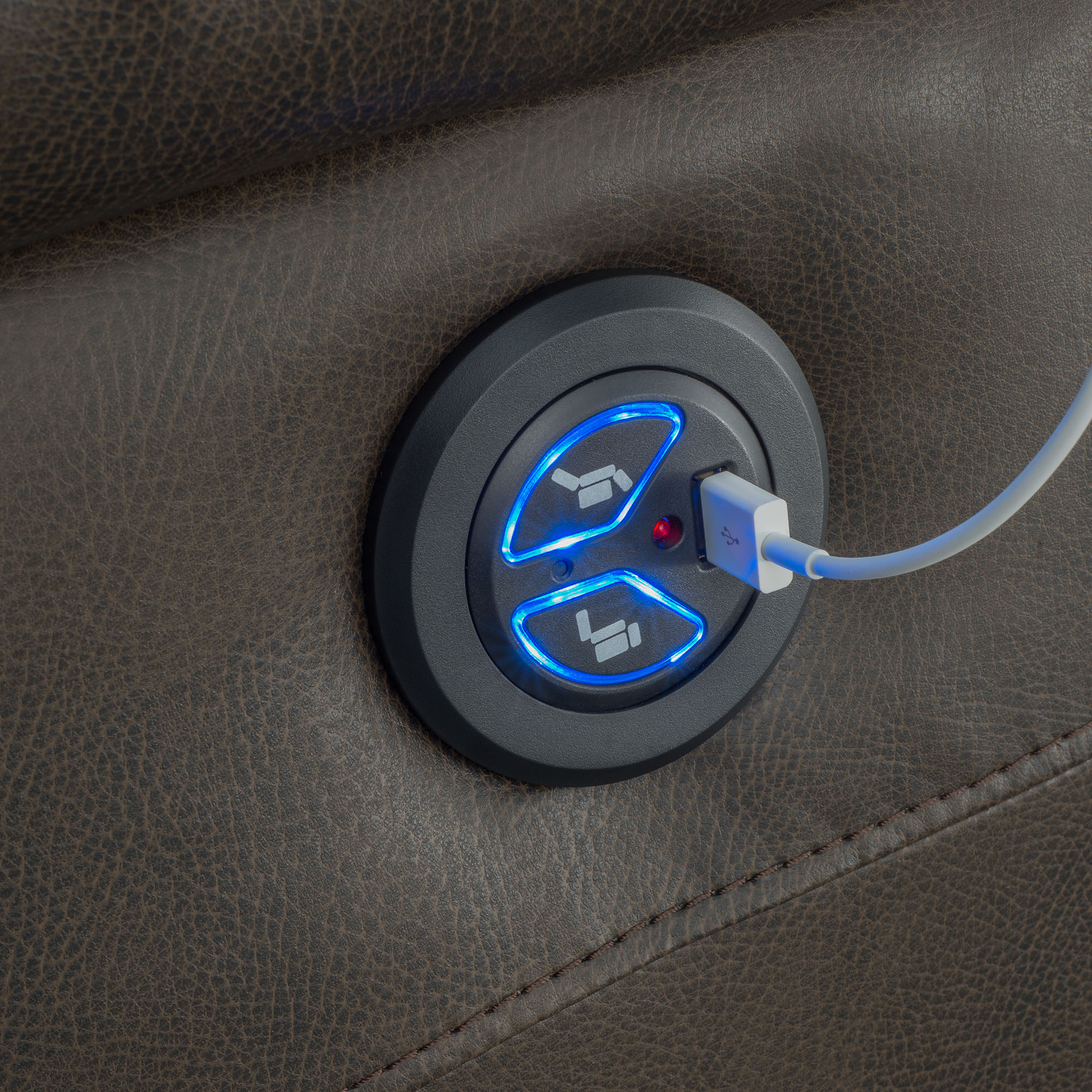 This chair also has our special Zero Wall-Hugging feature. We knew when we designed these pieces that they had to fit comfortably inside of the RV internal floor plan. If you're a seasoned road warrior or a first-time rig ranger, you know that real estate in an RV is at a premium. Even with slide-outs, there's only so much room available. With the wall-hugger you only need the smallest amount of room to have a relaxing recline. Our chair only needs 4" (3" for the non-powered version) of clearance from the wall to fully recline. This gives you plenty of room to not only have your furniture, but add other features like islands and other appliances for your RV that you can also find at RecPro.com. All put together, this chair measures 30" wide by 38" high by 37 1/2" deep.
Sturdy construction, convenient comfort, and technical savvy, this chair has it all. If you want to add the best in the industry at providing relaxation, then you need look no further than the RecPro Charles 30" Powered RV Wall-Hugger Recliner. Call our helpful Customer Care Department and order yours today!
Details:
Suprima Fabric
Colors Available: Toffee, Putty, Chestnut, Mahogany
Smooth recline function
Easy to clean
Contemporary design
Zero Wall-Hugger (only needs 4" of gap from wall to fully recline)
Overall: 30"W x 38"H x 30 1/4"D
Seat Dimension: 19"W x 22 1/2"D
First Recline Position: 52 1/2"D
Full Recline Position: 62 1/2"D
Minimum depth required to fit on slide-out is 36 1/2" with front of recliner overhanging the slide-out
Minimum depth required to fit on slide-out without overhang is 39 1/2"
Headrest distance from wall: 3"
Weight: 92 pounds
If you'd like to see how this piece fits in with your RV floorplan, you can check out our virtual drag and drop seat configurator at designer.recpro.com!
*We do not condone using seat belts with our furniture unless they are installed by a licensed RV dealership. Doing so improperly may void the warranty.
Technical Data:
Requires 110V Power
75 watts
*The recline function is dependent on electricity; without power, the furniture will not recline*
Installations:
*We cannot make any recommendations regarding installation of products to our customers*
*Any modification outside of manufacturer's suggested use (including, but not limited to, adding or removing mounting hardware, seat belts, brackets, clamps, etc.) immediately voids all warranties and waives liability from the manufacturer and all their subsidiaries*
*All furniture is designed to fit through a 22" door opening
Appearances:
*Please note: lighting, decor, and interior design may slightly alter color appearance of sofa*
*We round up to the nearest inch of the piece*
Warranty:
3 Year Limited
3-year warranty on structural components, springs, and mechanism
2-year warranty on Suprima Soft-Touch leather and thread (200,000 Double Rubs) 4 Year Hydrolysis (Made in China)
1-year warranty on mechanism actuator (Cable Release)