Double Stainless Steel RV Sink 27" x 16" x 7" 304SS
SKU:

34291

FREE SHIPPING

100% GUARANTEE
Description
Sinks are an important part of any kitchen, serving as a washing center, water dispense station, and storage bin. Because of this fact, you want a sink that serves its purpose and serves it well. Our stainless steel double basin sinks deliver on this request. Perfect for RV kitchens, these sinks are durable, sanitary, and visually appealing.
Durable
These RV kitchen sinks are made of 304 stainless steel, which means they are super durable. Rust-resistant as well as stain-resistant, you can be sure that your sinks will stay clean and sanitary for a long time, as long as you practice regular cleaning. Stainless steel is also non-porous. This means that germs and bacteria will not sink into the metal, as it does with plastic or wood. In addition to holding up to germs and bacteria, though, these camper sinks are also super tough against scratching. As long as you don't use a harsh abrasive against it, your sink will stay shiny and polished for its long life. With its durable, long-lasting build, stainless steel is the surefire way to make your kitchen clean, sanitary, and polished. What's more, 304 stainless steel is high quality. Made with a higher percentage of nickel, it is non-magnetic and has a higher amount of resistance to water.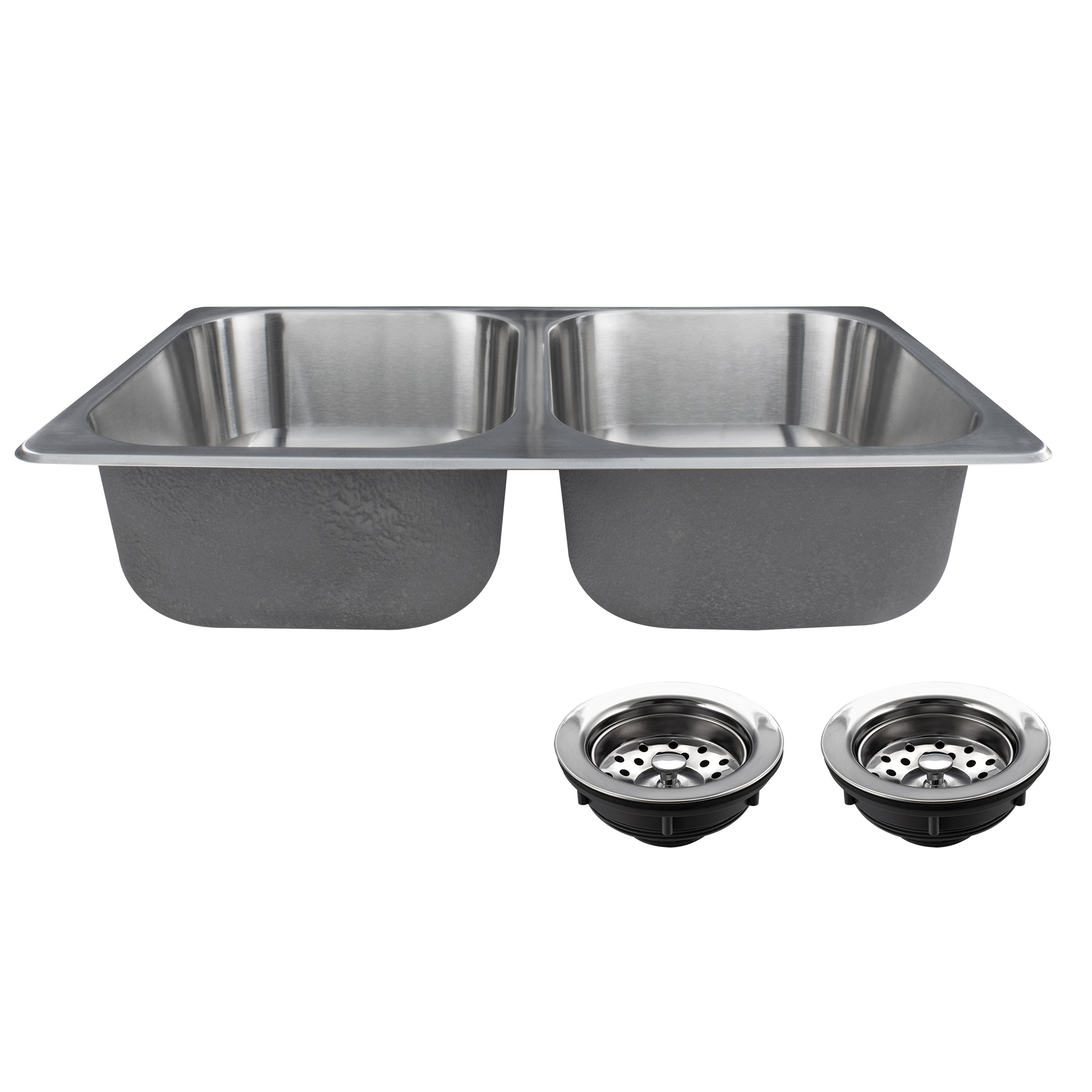 Attractive
Perfect for contemporary as well as traditional kitchens, stainless steel can match any interior. With its shiny and neutral finish, the steel reflects the color temperature of the room that it's in. This means that it can work with colder colors, like blues, grays, and greens, while also working with warmer colors, like red, tan, and yellow. The reflective surface also serves to enhance the lighting in a room, bouncing the light off of the metal and creating a visually larger space. A visually attractive solution to your kitchen needs, these RV stainless steel sinks are the way to go.
Double Basin
With its double basins, you have double the amount of space. Whether its dishes, clothing, or anything else, you have double the room to clean or store it, leaving you with fewer frustrations and troubles.
Details:
Dimensions: 27" W x 16" D x 7" H
Inner Basin Radius: 3 1/4"
Outer Basin Radius: 1 1/4"
Color: stainless steel
Drain stopper not included
Rectangle-shaped
Double Basin
Great for RVs and kitchens
22 gauge
304 stainless steel
3-1/2" Diameter Sink Hole
View All
Close