8' 6" Nickel Pattern RV Flooring Gray
SKU:

85GRY

UPC:

606345294021

Shipping:

Same Day Shipping if ordered by 11am est

FREE SHIPPING

FREE RETURNS

100% GUARANTEE
Description
Please select size in drop down menu
Great for RVs, Toy Haulers, Trailers, Steps and even Garages
Imagine that you have your arms full of dishes and silverware. You're quickly stepping out of your RV to get to the early cookout at the campground. It's a dew-kissed morning and the sun has just come up. Light is filtering through the trees sending rays of sun dancing in different directions. It's a picturesque morning. This is what the RV life is about. All the sudden, as you put your heel down on the bottom step of your camper, your foot slips, sending you flying up into the air. Your dishes, you, and your hopes of a pristine morning all come crashing down around you. "What happened?" you'll ask yourself that as they take you to the ER because you landed the wrong way on a spork. What happened is you declined to put no-slip coin flooring down on your steps last summer; that's what.
The coin/nickel pattern flooring from RecPro is an attractive must for the flooring needs in your RV, camper, garage or other location that requires no-slip covering. The RecPro coin/nickel flooring comes with our satis-traction guarantee. If you want to greatly decrease your chances of slipping, and avoiding the scenario above, then installing coin flooring should be on the top of your priority list.
This attractive gray flooring is sold in five-foot sections that are 8'6" wide so that you can easily customize them to fit your space. Want durability? This flooring avoids scarring, tearing, punctures and staining. It's also easy to clean with most any household cleaner and surface scrubber. This industrial rubber flooring is also resistant to most chemicals, water and has a high melt point so that any dropped pots from your stove won't easily scar your floor!
When it comes to putting slipping on the skids (or no-skids) coin/nickel flooring from RecPro should be your first, and only, choice.
Specifications
8' 6" Wide
Thickness: .105"
Color: Gray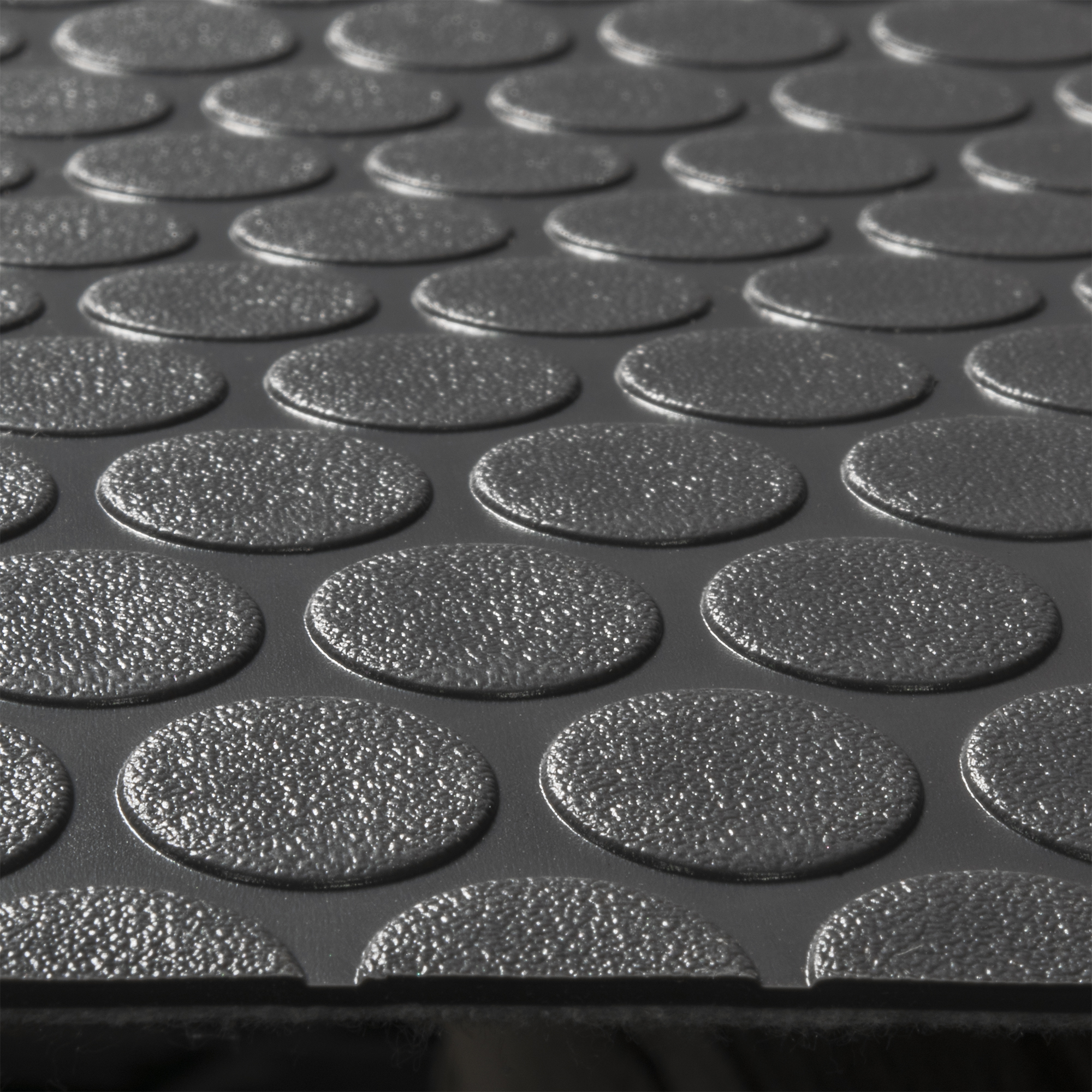 Features:
The coin/nickel pattern is a non-skid surface
Resistant to sunlight, cold, heat and chemicals
Waterproof
Great for RVs, RV steps, trailers, toy-haulers, garages and ramps
Easy to clean
Simple installation
Resistant to tearing, peeling or scratching
*Any modification outside of manufacturer's suggested use (including, but not limited to, adding or removing mounting hardware, seat belts, brackets, clamps, etc.) immediately voids all warranties and waives liability from the manufacturer and all their subsidiaries*
**PLEASE NOTE** All fiberglass/Filon/flooring/Superflex cuts are obtained from a master roll. This means the ends will have a rough edge and will be longer than the purchased cut length. This is done so the customer may cut the piece to exact specifications. Customer will make final cuts.
View All
Close