RV Refrigerator 4.3 Cubic Feet 12V Stainless Steel
SKU:

RP-2012

FREE SHIPPING

100% GUARANTEE

INSTALLATION INSTRUCTIONS
Description
Installing a refrigerator in your RV is a great way to upgrade your interior while adding to your comfort and convenience. Adding an RV refrigerator to your interior lets you pack more food for your trip, allows you to take fresh and cold foods, and helps you host more people, preparing great food for them to enjoy while staying over. While many RVs don't come with an RV already installed, you can add one to your interior. And if your old model has seen better days, then this model is a great replacement. So if you're looking for the perfect refrigerator for your RV, then check out this 4.3 Cubic foot 12V stainless steel refrigerator.
This RV refrigerator is a full fridge with a freezer on top. It measures 19" wide by 21 1/2" deep by 43 1/2" high with about 4.3 cubic feet of interior space. It runs on 12V power and is UL listed. The stainless steel material means it will stay clean and in good condition for years to come. Worried about spilling foods inside? Well, with this low-maintenance you can have an easy clean for a sanitary interior. This refrigerator is also frost-free, meaning it is lower maintenance. The glass and shelving is adjustable and the door is reversible. The front legs are adjustable as well so that you can level the unit. Built for RV travel, there is vibration dampening technology built into it. Great for dry-camping, it is a good idea to bulk up your power bank for this fridge unit.
Have any questions? Contact us online or call our friendly Customer Care team today!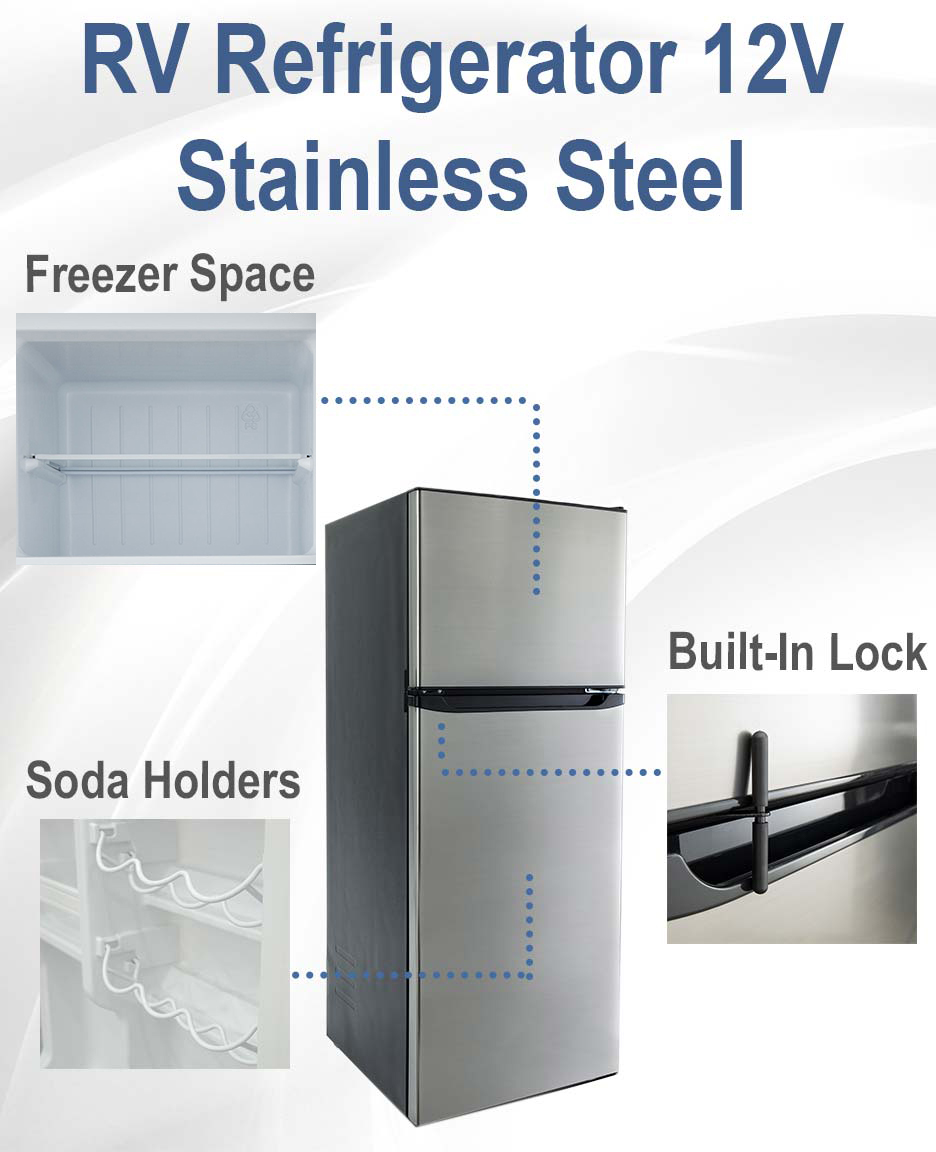 Details:
RV Refrigerator
Full fridge with freezer
Dimensions: 19"W x 21 1/2"D x 43 1/2"H

Requires 20" or larger doorway to fit into RV
Allow a minimum of 1" clearance on all sides

Freezer dimensions: 12"H x 19"W x 14"D
Interior space: 4.3 Cubic Feet
UL listed
Stainless steel
Double door
Frost free
Great for RVs and going off-grid
Less maintenance required
Refrigerator temperature controls
Adjustable glass
Adjustable front legs allow you to level the unit
Reversible door
Vibration dampening technology withstands RV travel
No venting required
Does not work with propane
Lasts for long periods while dry-camping
Refrigerator and freezer doors can be reversed to be either left or right hand
Technical Data:
Voltage: 12V DC
No plugs included
6 Amps at startup and 1 amp or less at operating temperature
72 Watt

Refrigerant: R600A (Iso-Butane

)

Brushless compressor motor
View All
Close