RV Head Knocker Entryway Bumper Pad for RVs
SKU:

HED1

UPC:

193652001881

Shipping:

Same Day Shipping if ordered by 11am est
Description
There are many exposed surfaces in your RV. Some are innocuous, and yet others can present some level of danger if they are not adequately covered. The top of the entrance door in your RV is one of those areas. The doorways of recreational vehicles are like any other part of your rig, smaller than a standard-sized version. For average-sized adults, this doesn't always pose a problem, but if you're a taller individual, or rushing out of your RV, you have to duck to get out of the door. If you don't, you'll bang your head on the door's trim and possibly injure yourself. This is why you need a headknocker from RecPro.
Our headknockers are constructed with the same materials that you'll find in our luxury furniture. They offer the same Suprima Fabric with its buttery soft surfaces and elegant Tiona pattern. You'll also have the same colors available:
Putty
Chestnut
Mahogany
Toffee
Our headknockers are also stylishly designed so that you can tailor the interior of your RV to your tastes. We have two brand new proprietary design profiles for you to choose from: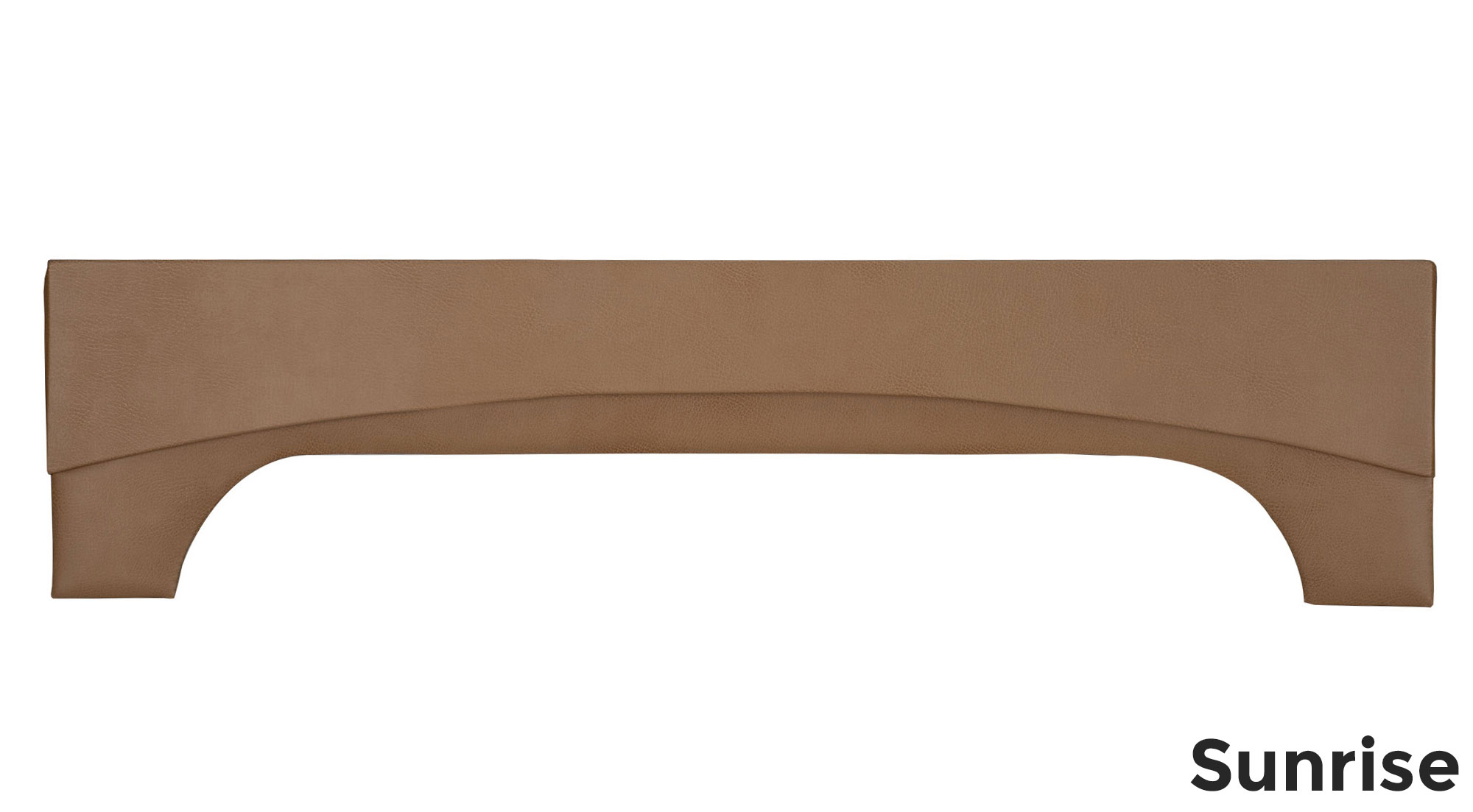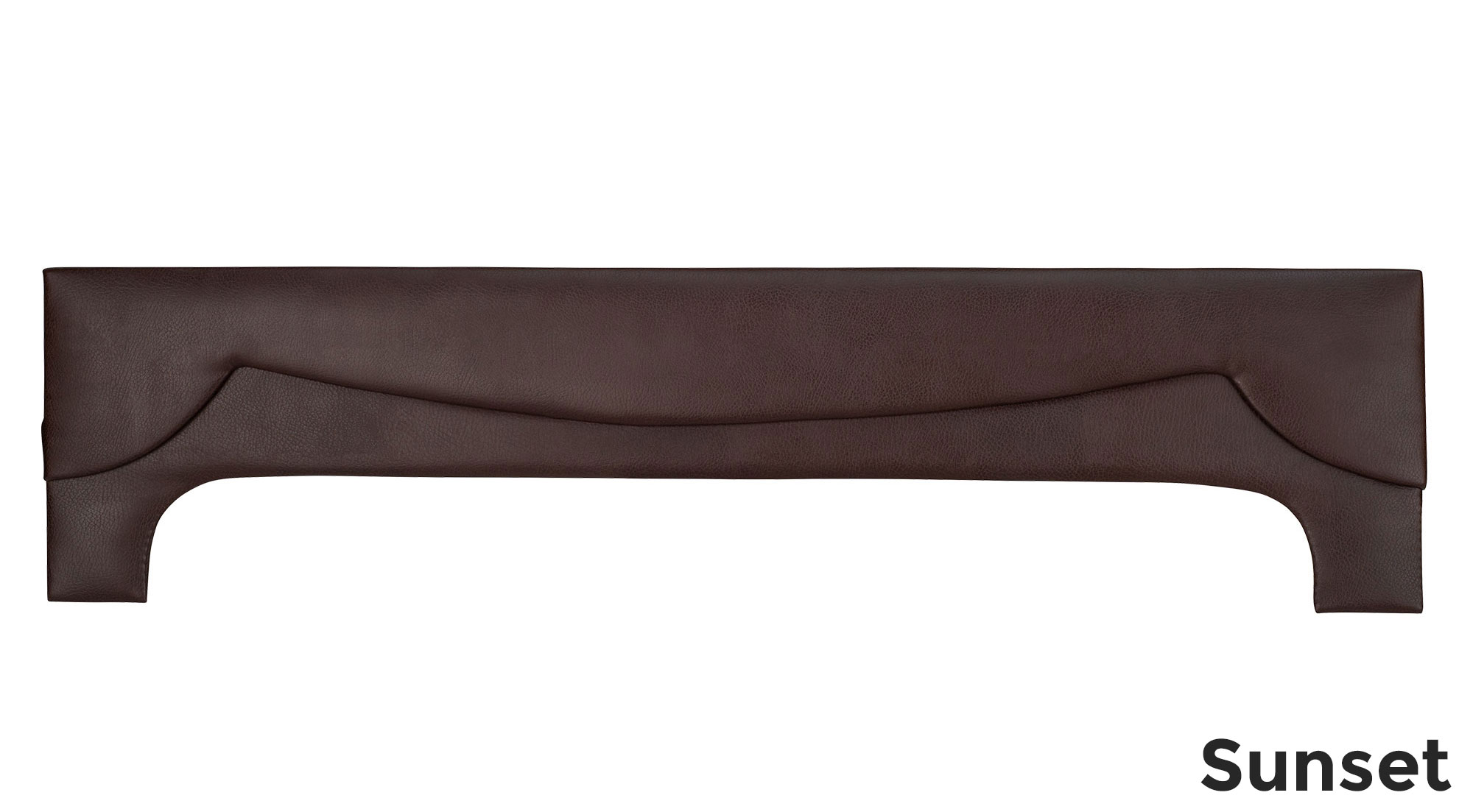 These headknockers are a must-have for your RV, camper, fifth-wheel, or other travel trailers that have an entrance door. They also make a smashing replacement for a valance if you don't have blinds or have an area with reduced space, but would like a decorative piece above a window.
Installation
The first consideration is the measurement of your door opening*. You must accurately measure the opening of your door and use that width as the width you order from RecPro. If your door measures 36" in width (which will be the inside dimension of the bumper between the "legs"), then you order a 36" bumper. You want the opening at the bottom of the headknocker to fit the edges of your door accurately. If you are too broad with your measurement, you could still have exposed edges which could potentially injure you and your passengers. Too short and you could reduce the size of your entryway considerably.
Make sure the provided hardware** is the right size for your RV. The snaps and buttons go with the headknocker. The screws are a courtesy for our customers. They are a standard size and not meant to fit all makes and models of RV. Always measure at least twice before inserting any hardware into your walls and flooring.
*IMPORTANT* READ BEFORE ORDERING:
It is crucial when ordering a custom-sized item that you make sure and measures your door opening* at least twice. You want to make sure you order the correct size the first time. If you order the incorrect size, it will NOT be refunded as this is a custom item. Measure the outer edge of your door so your headknocker will give you the maximum clearance but will cover the totality of the top of your entrance. You do not want to have any exposed edges of your doorway.
Details:
Styles – Sunrise and Sunset
Colors – Toffee, Mahogany, Chestnut, and Putty
Pattern – Tiona
Width (inner dimension) – 18" to 36"
Width (feet) – 2 1/2"
Height – 8" (at deepest point - the "legs" of the bumper) 5" (at narrowest point)
Comes with hardware – (4) buttons (matching color), (4) snaps, (4) mounting screws
*YOUR DOOR OPENING (MEASURED FROM THE OUTSIDE EDGE TO THE OPPOSITE OUTSIDE EDGE OF YOUR DOOR) WILL BE THE INNER DIMENSION OF THE BUMPER. THIS IS THE SIZE YOU WILL WANT TO ORDER.*
**Installation generally requires only three of the screw/snap sets. The fourth is for extra stability or if there is an occurrence of product failure in regards to the hardware **
View All
Close