RecPro 42" RV Dinette Booth with Optional Table and Leg
SKU:

DFU-42CT-L-P

UPC:

606345303570

FREE SHIPPING

100% GUARANTEE
Description
As you travel the roads of this great nation, whether you're deftly navigating the mountains of Colorado, winding through Wyoming, or crossing through the crossroads of Hoosier country, you'll want to outfit your RV with the most comfortable furniture available. From your sofas to your seats, there's something to be said for adding luxury to your lifestyle when you're logging thousands of miles every week or camping in comfort somewhere in the Appalachians.
At RecPro, we understand that the creature comforts you have in your homes are the same that you want with you on the road. What is one sure way that you can accomplish this? Decorating your rig like your home is one way to make your RV familiar territory. You can also equip your RV with some state-of-the-art electronics. This will go a long way toward creating a comfort atmosphere and make life in the wilds that much easier. Really, why make camping tougher than it needs to be? Another way, and we here at RecPro think is one of the best ways to bring home to the road, is to create a whole home space on four wheels. This means from the bathroom to the bedroom your RV is a smaller version of your home world. One easy way to accomplish this is to buy and install the 42" Dinette Combo Kit from RecPro.
With the 42" dinette kit available from RecPro you can create a full kitchen and dining room set up in your recreational vehicle. Your kitchenette is enough to cook your food, to be sure, but then you're relegated to eating in your captain's chair or the uncomfortable factory seating that came with your RV (unless, of course, you wisely added the Charles line to your RV already). Some poor souls have even reported sitting on the edge of their beds because they didn't have anywhere comfortable to sit in their RV! We understand your concerns. We're here to help.
Dinette Booths:
Starting with the rapidly rising star in our Charles line, we added the new Dinette pairs in your choice of one of our four designer colors:
Putty
Toffee
Chestnut
Mahogany
These booths feature the same quality and design that you have come to know and love in our luxury Charles line. The bench style seats give you plenty of room for multiple guests to sit and enjoy dinner and then a nicely-sized sleeping area for when you retire for the evening. Either way, there's ample RV-level room for you to sit and sleep.
Another feature of these booths is storage room. In lesser models, extra real estate that would traditionally be taken up by a clunky factory-installed drawer that offers very little space exists with the Charles Dinette Booths. The lightweight seat cushions lift up to reveal very generous storage areas that will give you much-needed room that is normally hard to find in many of the RVs on the road today.
This booth set is a comfortable and attractive start to outfitting your RV with a dining area that makes sense on many different levels. But we won't stop there. What is the point of having a pair of classy luxury booths in your unit if you don't have something to eat on?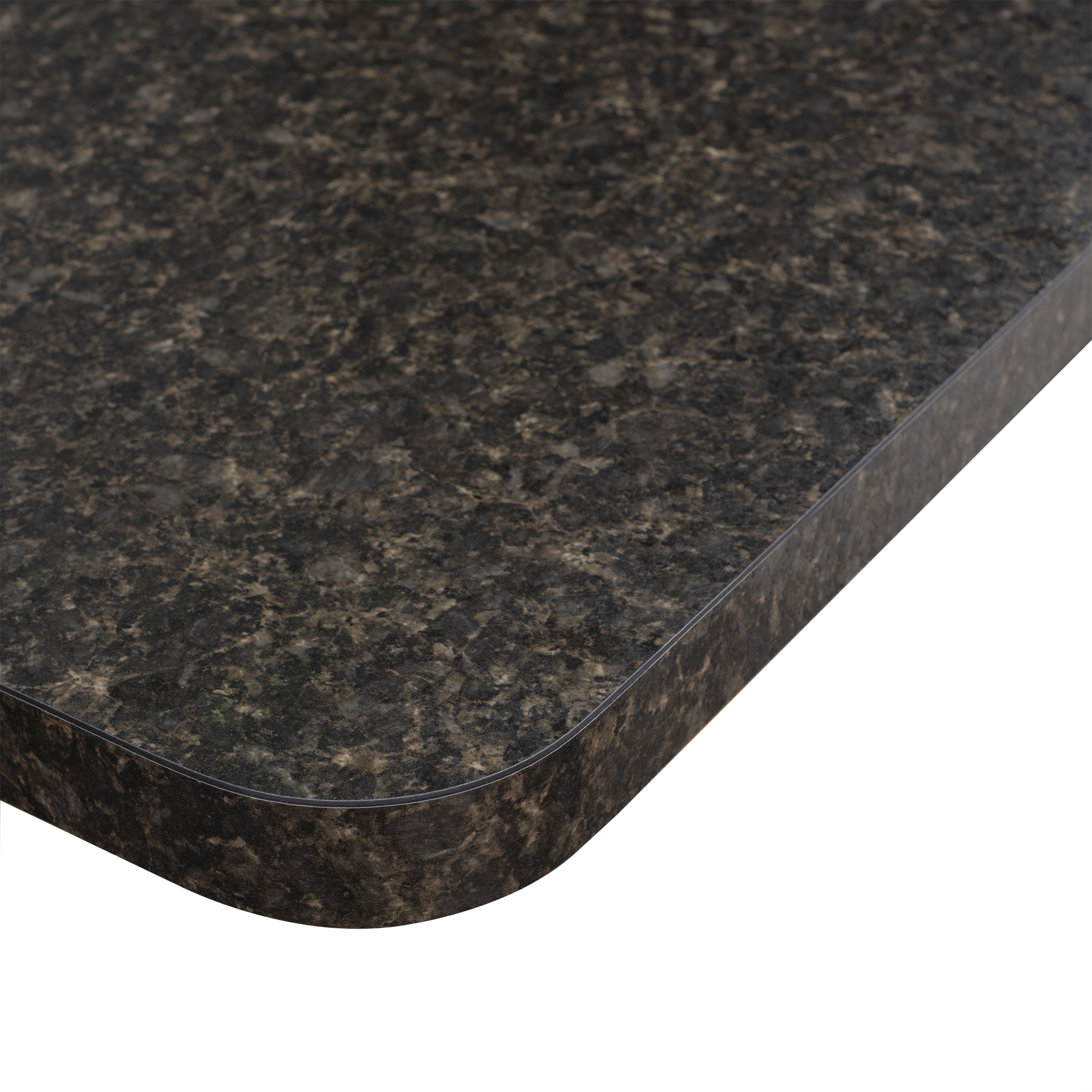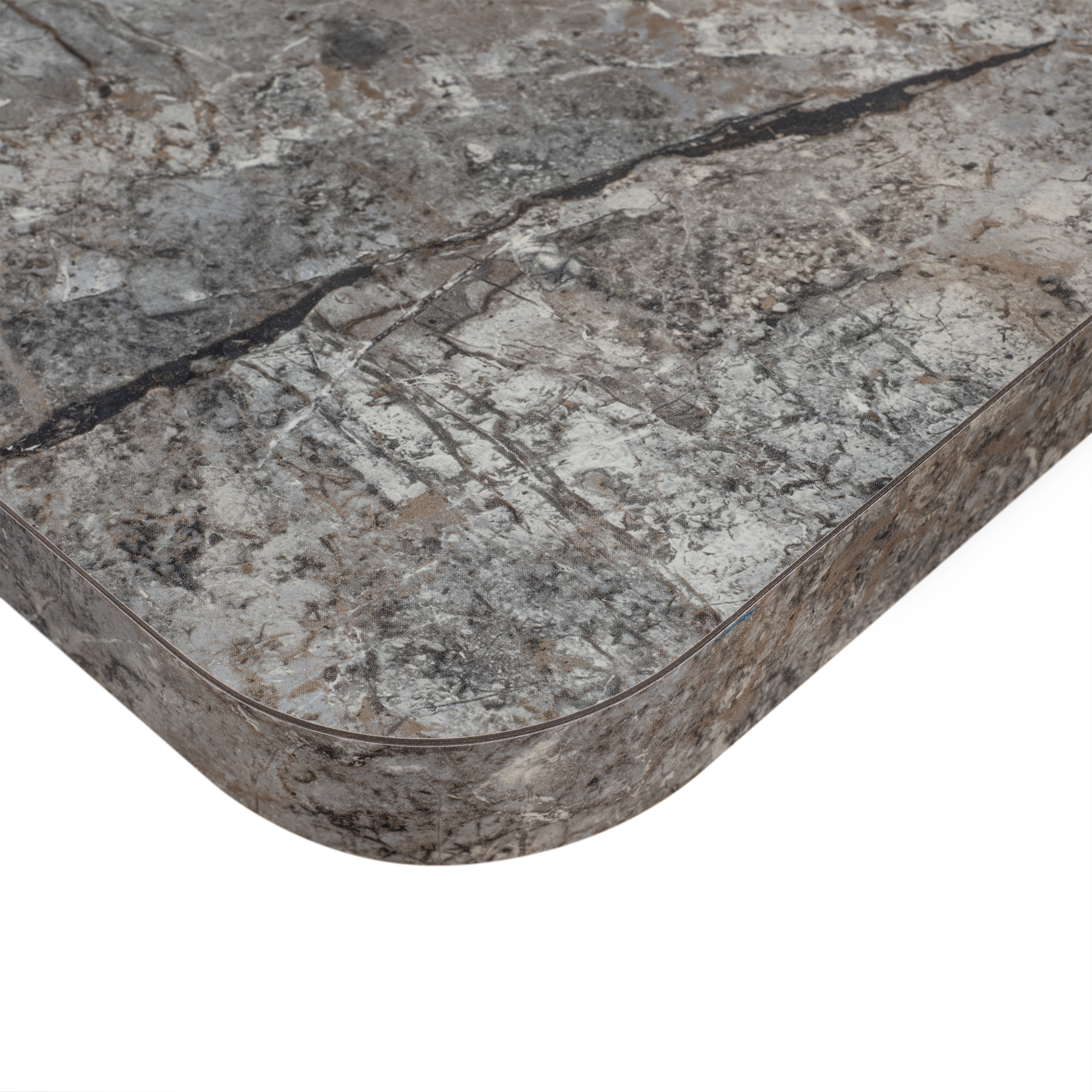 Picture Above - Granite Chocolate (left) Luna Imperial (right)
Tables:
We're very proud to introduce the next generation of tables to the market with our RecPro RecLite Table Tops. This next-gen offering is unlike anything you've seen on the market. The RecLite table reduces weight, adds strength, and looks great while doing it. Here are some questions you may have about these new tables:
Q: How much of a weight reduction are we talking about?
A: How about up to 40% less than traditional tables!
Q: Will there be any loss in the strength capacity with this new table?
A: These tables can hold up to 2,000 lbs. before they even risk any sort of damage. Remember how your grandpa would say, "Why that's so strong, you could park a car on it!" Well, you can park a car on these and they won't break. We have the video footage to prove it.
Q: OK, they're strong and light, but how do they look?
A: With the marbleized patterns of Granite Chocolate and Luna Imperial, we know they'll easily fit most RV interior designs out there.
Q: Most table systems are clunky and unwieldy. How does this lightweight system lock into the RV?
A: Our RecFit locking system is one of the easiest and strongest out there on the market. With the compression fittings on each end of the 27" table legs, you simply push down, turn, and then push again to lock your table into place. You can choose either one or two leg supports for your table system.
Q: How does the leg attach to my RV?
A: With either the standard compression bracket or the low-profile flush bracket.
Q: Is it complicated to install?
A: It couldn't be easier! With the combo kit we provide 6 (12 for the dual leg) 18/8 stainless-steel coarse-threaded screws that drill right into the backer of the table for a secure fit*.
That should answer many of your questions about our new dinette selection from RecPro. This kit will provide virtually everything you need to create the perfect dining experience in your RV. While we tried to provide everything, there may be extra pieces that you require to make your RV the way you want it to be. Don't worry, all of these pieces can be purchased separately from our site or by calling one of our helpful Customer Care Agents by phone.
*Hardware provided with combo kit is for top brackets) only. You must purchase or provide your own hardware for the bottom brackets. Any non-combo kit purchases will not come with hardware unless specifically stated on website*
Features:
Overall dimensions: 42"W x 31 1/2"H x 22"D
Spacious storage under the benches
Tiona patterned Suprima leather
Comes in colors: Putty, toffee, Chestnut, and Mahogany
Quickly converts to a bed
No bulky slide-out drawers
Charles luxury line design and feel
Optional RecPro color-matching thread available
Seat height: 19.5"
"L" brackets for secure placement of your dinette booths
Table tops come in Luna Imperial or Granite Chocolate styles
RecFit table leg(s) height: 27"
Table dimensions: 42" x 30"
Weight of both 42" booths and table is 127 pounds
If you'd like to see how this piece fits in with your RV floorplan, you can check out our virtual drag and drop seat configurator at designer.recpro.com!
*We do not condone using seat belts with our furniture unless they are installed by a licensed RV dealership. Doing so improperly may void the warranty.
**ATTENTION** When installing the booth set with the RecLite table, make sure that the overall width of installation (measured from the backside of each booth) is 74 1/2". Each booth is 22" wide and the tables (regardless of length) are 30" wide. This equals an overall measurement of 74". The extra 1/2" is so the table edges will not catch on the material and fit comfortably in the open space between the booths.
*We round up to the nearest inch of the piece*
All furniture is designed to fit through a 22" door opening
Suprima Soft-Touch Leather - Industry Leading 3 Year Limited Warranty
3-year limited warranty on structural components, springs, and mechanism.

2-year limited warranty on Suprima Soft-Touch leather and thread.

Made in China

200,000 Double Rub (Wyzenbeek Rating)

5 Year Hydrolysis

1-year warranty on mechanism actuator. (Cable Release)