8' 2" Nickel Pattern RV Flooring Black
SKU:

85BLK

UPC:

606345295776

Shipping:

Same Day Shipping if ordered by 2pm est

FREE SHIPPING

FREE RETURNS

100% GUARANTEE
Description
When you're looking for the ideal flooring for your RV, toy-hauler, trailer, garage, or any application that requires an attractive no-slip surface; coin/nickel flooring from RecPro can't be beat. This flooring is cross-functional and can be applied to steps, ramps, sills and any other surface where you need the RecPro satisfaction guarantee.
Our coin/nickel flooring is designed to take a pounding day-in and day-out, which is perfect for those living the RV lifestyle. The road can be rough on your rig with the constant use, vibration and exposure to the elements. Every time you get in and out of your recreational vehicle, you're bringing those outside elements in with you. Coin/nickel flooring can take that kind of punishment. This durable flooring is made from high-quality industrial rubber and is resistant to cold, heat, UV rays and most chemicals. This makes it perfect for use in settings where it could encounter oils, water and other liquids.
Convenience is another plus that comes with coin/nickel flooring from RecPro. Not only is it easy to install, but continued maintenance is a breeze. Normal household cleaning products, and cleaning tools (such as mops and flat mops) are perfect for maintaining your floor. Proper maintenance, and the fact that our flooring is resistant to tearing, scratching and punctures, should keep your floor in top shape for the life of your recreational vehicle.
When it comes to outfitting your rig, garage, or industrial area with an attractive and highly-durable no-slip covering option, coin/nickel flooring from RecPro should be your first choice!
Specifications:
8' 2" Wide
Thickness: .105"
Color: Black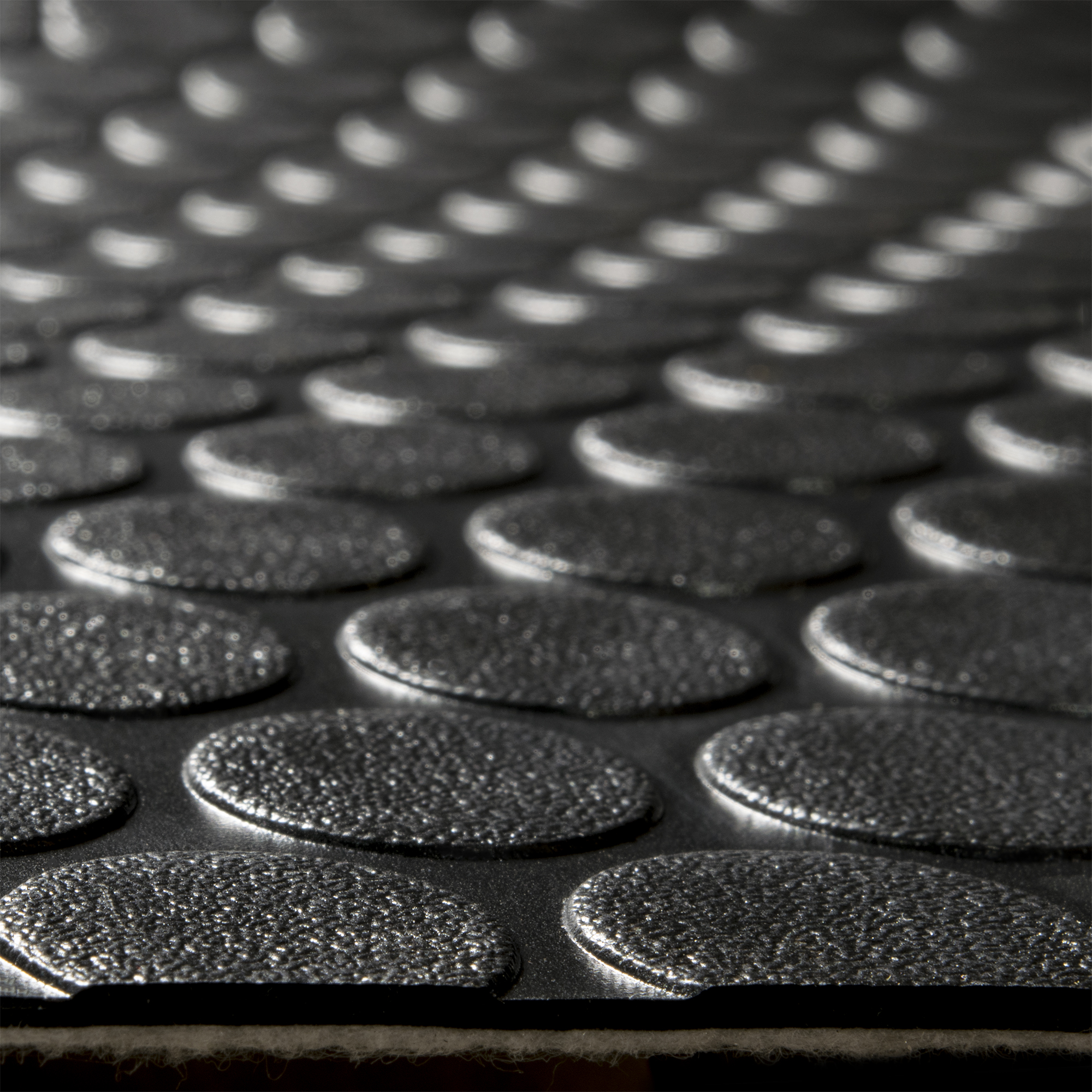 Features:
The coin/nickel pattern is a non-skid surface
Resistant to sunlight, cold, heat and chemicals
Waterproof
Great for RVs, RV steps, trailers, toy-haulers, garages and ramps
Easy to clean
Simple installation
Resistant to tearing, peeling and scratching
*Any modification outside of manufacturer's suggested use (including, but not limited to, adding or removing mounting hardware, seat belts, brackets, clamps, etc.) immediately voids all warranties and waives liability from the manufacturer and all their subsidiaries*
View All
Close
1 Review
Write a Review
8' 2" Nickel Pattern RV Flooring Black

Texas Mobile Kitchens installs this product in all of our food concessions. The quality, the cost and shipping can not be beat. Easy to install. Received in very good condition and within days of ordering. This product has padding making it easy on the back when you are standing all day. Very easy to clean. The raised coins offer slip resistance. Can't say enough good about it!
View All
Close